According to the Duggar Dad, Incest Should Be Punishable by Death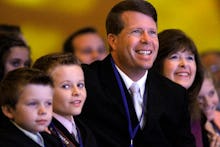 Amid revelations that 19 Kids and Counting star Josh Duggar sexually molested a number of underage girls as a teenager, the entire Duggar family has found itself under a microscope. Now, an old website from family patriarch Jim Bob's failed 2002 Republican Senate race shows a stunning new level of hypocrisy.
In an web cache uncovered by Gawker, the Duggar father called for the execution of those who committed incest. Within a larger explanation of his positions on abortion, Jim Bob wrote, "rape and incest represent heinous crimes and as such should be treated as capital crimes."
The tough talk on sex crimes is ironic considering his son's crimes, but the story becomes even worse considering Jim Bob Duggar's actions when he found out his son had sexually molested members of his own family. Far from throwing the book, Duggar declined to contact authorities for more than a year after the reported incident. The church elders he did tell also did nothing with the information for three months. 
The Gawker investigation is only the latest of developments in the Duggar family scandal. Since the news broke Thursday, Josh Duggar has resigned his position as an executive director of the religious (and hate) group, the Family Research Council, and TLC announced the family's show was indefinitely off the air. 
Jim Bob's explosive campaign positions join a list of unfortunate statements and comments made by members of the Duggar family over the years that have resurfaced with the controversy. Over the weekend, a 2008 incest joke by Josh Duggar began making the rounds on YouTube, while a 2014 interview in Cosmopolitan with Duggar sisters Jessa, Jinger, Jana and Jill talking about kissing their brothers is now also quite awkward with hindsight. 
Jim Bob's little-known Senate hopes were extinguished when he lost the nomination to incumbent Tim Hutchinson. Thanks, however, to the Internet's photographic memory, the world will always remember the staggering hypocrisy and false virtue around this final episode of 19 Kids and Counting.  
h/t Gawker