This Good Samaritan Who Took Off His Turban to Help a Child Was Given New Furniture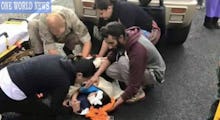 Harman Singh, the Sikh man who broke the religious tradition of removing his turban in public in order to cradle a 6-year-old boy hit by a car in New Zealand on May 16, has been hailed a hero and was gifted a set of furniture for his barren apartment by a news station and local businessman.
This picture of Singh tending to the injured boy went viral, with people celebrating his compassion across the globe. 
The 22-year-old man from India, who is in New Zealand studying business, was in his home when he heard screeching tires and rushed out to help. 
"I saw a child down on the ground and a lady was holding him. His head was bleeding, so I unveiled my turban and put it under his head," Singh told the New Zealand Herald.
Though removing his turban in public is not allowed under Sikh law, Singh circumvented the rule to help the boy in need.
"I wasn't thinking about the turban. I was thinking about the accident and I just thought, 'He needs something on his head because he's bleeding.' That's my job — to help. And I think anyone else would have done the same as me," Singh said. 
In the follow up to his heroism, a news crew visited Singh's house and, during the filming, found that he lived a modest life in a near-empty house with nothing more than a mattress on the floor and a few plastic chairs. So, New Zealand's ONE News teamed up with the owner of a local furniture shop and surprised Singh with a full new set of furniture for his home. The heartwarming video shows Singh reduced to tears while describing it as "the biggest surprise of my life." 
When Singh went to visit Deajon Pahia, the injured child he'd helped, in the hospital, his family also thanked him again with flowers and balloons.
Stories such as these, where compassionate humanity prevails over rigid ideology, are what offer hope to the world. Both the compassion offered by Singh and the subsequent gratitude from the boy's family and complete strangers are good reminders of humanity's inspiring qualities.