Lena Dunham's Bathroom Photo Is a Bold Step in the Spirit of Body Positivity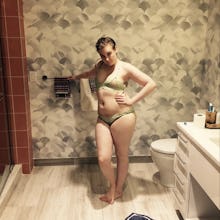 Lena Dunham is on fleek in her pistachio green lingerie, modeled in a new Instagram photo posted Monday. The Girls creator captioned the photo with a shout-out to the brand Lonely Lingerie: "Love my @lonelylingerie and I think I will wear it to dinner with some boots & a smile because we are all very lucky to be free."
Dunham is taking body positivity to a whole new fun and sassy level with this photo, proving that what is sexy is more than the lingerie – it's confidence. 
Style makes the woman, confidence makes her beautiful: Dunham is known for her honest portrayals around the body and sexuality, especially in her HBO series, Girls. She's talked before about how important it is to make her body visible as an act of self-empowerment. "I spend a lot of my career trying to break down the negative forces that the media exerts on women in trying to control their body image," Dunham said on Good Morning America last fall, "so for me it's all very sort of anathema to who I am to admit that I too have struggled with the concept of perfection."
Confidence is sexy: Dunham's cheeky caption betrays the confidence that lies at the heart of this photo. Whether lime green lingerie or a forest green bikini, Dunham knows how to work it. As Bustle points out, Lonely Lingerie makes pieces for women who "view lingerie as a love letter to themselves." Feminist empowerment is on display here — as Dunham notes, she is free to wear what she damn well pleases. And nothing, not societal pressure nor Hollywood beauty standards, will make her do otherwise.