One Tweet Reminds Us Why Judy Blume Was the Sexual Revolutionary We Needed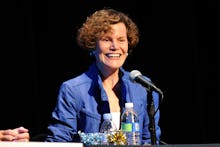 Forget sex ed seminars and your parents' cringe-inducing sex talk. For many, there was only one authority we could trust who knew everything about our changing bodies and desires. That woman was Judy Blume.
In a Twitter exchange on Tuesday, the young adult author reminded us of just how necessary her sex ed lessons were. When asked by Twitter user Sue Fliess about the worst comment Blume ever received about the sex scenes in her frequently banned 1975 novel Forever, Blume replied that she received criticism about the main character Katherine having orgasms.
Real talk about pleasure: "I can remember a couple of angry women — angry because K had orgasms," Blume tweeted. "They didn't think that was realistic. I did."
Ridiculous, right?
If being criticized for writing about female pleasure seems outrageous, it reflects the lack of accurate depictions of sexuality in so many young adult novels. As her critics weren't afraid to point out, Blume was a trailblazer in that she treated the topic of teen sexuality without shame or judgment. She shined a light on the awkwardness, confusion and bumbling that accompanies teen sex — but also the pleasure and desire.  
"Katherine doesn't get pregnant or raped. She doesn't get an STD. She gets an orgasm," xoJane's Jaclyn Y. Garver wrote. "This is not a book that's trying to scare teens away from sex. It's a book that looks at sex for what and how it is." 
Blume conceived a literary world where young women could achieve pleasure and talk about it.
How we learned about sex: Her fearless approach to the more complicated parts of adolescence — menstruation, sex, homosexuality, masturbation — was instrumental to how her readers came to terms with their own sex lives and bodies. Who could forget in Forever, when Michael introduced Katherine to his penis, nicknamed Ralph, and she proceeded to give her first hand job? Or the titular character from Are You There God? It's Me, Margaret navigating her first period with a sanitary napkin? 
The children and teens of Blume's books didn't only normalize sexuality for so many young kids, they illuminated the more embarrassing, secret parts of sex — the blood, the touching — that many readers were too afraid to bring up in school or to their parents. Her characters didn't have any special powers or skills, but rather experienced the humiliations and exhilarations of early relationships, just as we did.
"Forever was the story of Katherine and Michael's first time having sex. That book was my sex education," one blogger wrote on BlogHer. "God knows my parents never sat me down and explained anything. "
"This woman taught me about menstruation, masturbation, making out and sex, which is a damned sight more than any teacher ever did," the Guardian's Hadley Freeman wrote.
While Blume isn't publishing at the same rapid rate she was in the 1970s, she is about to step back into the literary spotlight with a new adult novel, In the Unlikely Event. The announcement that this will be her last novel is an important reminder of what Blume has done for us. As the tweet points out, she went far beyond her contemporaries to promote female pleasure and bring reality, however awkward or explicit, to her pages. She may have been a childhood favorite, but she still delivers the greatest real talk about sex any girl could want.