Women With Strong Female Friendships Have a Surprising Advantage Over the Rest of Us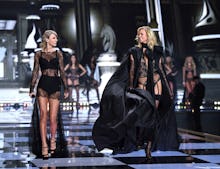 Move over Kimye, a new kind of power couple is taking the world by storm: Behold the femship.
This is an intimate yet platonic relationship between two badass women, who become more fabulous by virtue of being in the same vicinity. You've probably been seeing femships a lot in pop culture lately — in shows like Broad City, or in recent music videos like Nicki Minaj and Beyoncé's "Feeling Myself," which shows the two superstars bonding over female pleasure, or Taylor Swift's "Bad Blood." The latter features an ass-kicking crew of female recruits and helped make the hashtag #SquadGoals go viral on social media, with women posting pictures of their female posse.
"Sisterhood is nothing new," entrepreneur and women's advocate Rachel Sklar told Mic. "It's often been in the background and not paid attention to." What is encouraging, though, is an arguably stronger cultural focus on the way female friendship can multiply women's professional power, helping more women fulfill their potential and even helping to subsequently reduce gender inequality.
A problem in media: Sklar emphasized that women have always stuck up for each other — it's just that now we are having a "moment of visibility." The lack of past attention paid to the power of female friendship stems in part from the lack of these kinds of relationships in media. While men are often shown working as a supportive team in pop culture, that kind of partnership between women is harder to find. Classics like Sex in the City or Bridesmaids may put an emphasis on female friendship, but female characters in general are often portrayed as in competition with each other. Whether it's the cattiness satirized in films like Mean Girls or the inter-generational jealousy of something like Snow White, popular culture is full of examples of women in conflict.
Even when they're not in competition, the portrayal of women's relationships with one another often revolve around men, rather than their own experiences or goals. A film only passes the purposefully low-barred Bechdel test, for example, if it includes a scene in which two named female characters have a conversation about something other than a man. Even huge box office films with awesome female characters, such as Harry Potter and the Deathly Hallows: Part II, often fail the test.
If female characters are so rarely shown speaking to each other about anything other than a man, it's not surprising we hardly see them working together to lift each other up the way men do. And given the comparative dearth of female friendships in pop culture, it's no wonder that when we think about devilish duos, we often think of male teams. The book Powers of Two, for example, written by Joshua Wolf Shenk, is a treatise on how relationships power creativity and success, yet lists almost exclusively male examples.
Sklar says the lack of focus on the power of female friendship is a consequence of the way our culture erases female power and the bonds that women make. "Male partnerships have gotten lots of attention because men get attention," she told Mic. "Men have always helped out each other, and continue to do it. We are seeing more and more of this for women, and it's good for everyone, because there's nothing quite like a lady power team," Sklar explained.
That's why she created TheLi.st, a network platform meant to empower women, with her partner in crime, Glynnis MacNicol. "That was the basis for TheLi.st, a community of women who are professionally interested in each other's success."
The notion that strong friendships with powerful women can help women get ahead is the basis of shine theory, a term coined in New York Magazine by Aminatou Sow and Ann Friedman that refers to the way that being around fabulous women makes you more likely to be fabulous, too. Sklar points to famous female pairings like Amy Poehler and Tina Fey, or Shonda Rhimes and Betsy Beers, as examples of long-standing female friendships that also helped women advance professionally.
The emphasis on female friendship isn't just good for some women; it's good for all women. With more women in boardrooms, government, the sports world and comedy, strong female relationships can translate into tangible empowerment. Femships can help disrupt boys' clubs in male-dominated professional spaces like Silicon Valley, for example, where 93% of venture capitalist funding goes to male founders.
Eileen Carey, co-founder of Glassbreakers, a networking platform for women to find female mentors, says that her friendship with co-founder Lauren Mosenthal has been instrumental to their survival in the field. "As business partners of a fast-paced startup, it's important for us to support each other professionally and personally in order for the company to succeed," she told Mic. "Our friendship is rooted in our shared devotion and passion for what we do. We know we're not in this alone and we're stronger leaders together."  
"There's nothing quite like a lady power team."
Carey and Mosenthal aren't the only femship taking over the tech scene. In May, Kathryn Minshew and her co-founder Alex Cavoulacos locked in a $10 million investment for their career site, the Muse. "It's unbelievably powerful to have someone who knows you so well, not just professionally but personally," Minshew told Mic. "Someone like Alex knows my strengths and weaknesses, my emotional highs and lows, what is energizing to me. And I do the same for her."
The power of femship extends to entertainment, too. In a recent speech at Marie Claire's "New Guard Luncheon," Grey's Anatomy executive producer Betsy Beers talked about how her unique partnership and friendship with Shonda Rhimes has helped the two push their ideas through rooms in which they were the only women. "When we looked at the television landscape around us, we didn't see us in any network dramas or really, anywhere else," she explained. Now the two are the force behind Shondaland, a production company that's created the massively popular hit shows How to Get Away With Murder and Scandal. Thus, they haven't just helped each other be heard — they've created television that portrays strong independent female characters like Olivia Pope. 
Even when women operate in the same field or want the same title, a friendship can make both women stronger. Serena Williams, for example, recently spoke about being best friends with "her fiercest competitor" in Vogue. "Let's just put an end to this myth that women players cannot be friends," Williams said regarding her BFF and rival on the court, tennis champion Caroline Wozniacki. She went on to explain that having to play against her best friend and her sister didn't get in the way of building lasting femships with the both of them. "It's hard and lonely at the top," she told Vogue. "That's why it's so fun to have Caroline and my sister, too."
Having each other's backs makes women unstoppable. The femship might be key to providing women with the critical mass they need to reach parity with men. "Female friendship helps women get the upper hand in the world," Sklar explained. "It's advantageous for me when my bestie does well. Not only does it make me look good that I'm hanging out with a baller, or shall I say an egger, but it also increases my own sense of opportunity because the opportunities for me improve, too."
She's right. When women work together, they also succeed together. So although we love to snack on slideshows of Beyoncé and Jay Z's latest tropical vacation while we impatiently await Amal and George Clooney's impending world domination, the thought of seeing more female friendship pop in our newsfeeds should make us giddy. Celebrating friendship, rather than competition, between women will help the next generation of women embrace, rather than resent, the strong women around them. In a world still ridden with gender inequality, femships may be the game-changer we've been waiting for. Cheers a Big Mac with your bestie to that.