Someone Flew a Drone Over the Colossal Texas Floods — And the Results Are Haunting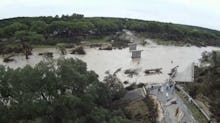 The colossal floods hammering the Midwest United States over the weekend have turned life into a soggy mess for Texas and Oklahoma. 
As of Tuesday, over a dozen people have been reported missing, and the death toll continues to rise. Photos on social media make the Lone Star State look like Waterworld, with miles of roads transformed into massive, deadly flumes.
Videos of drone footage have been popping up over the weekend, showing the destruction wrought all over central Texas. The footage below comes from Rakesh Agrawal, founder of SnapStream TV Search in Houston.
Bryan Rumbaugh of Houston, Texas, also took the opportunity to fly a drone over his flooded home, starting in Buffalo Bayou Park in central Houston and moving to Eleanor Tinsley Park, two miles down Buffalo Bayou.
The aftermath he captured is startling, but not just because of the size and scale of the devastation. It's how still everything looks.
The two-part series from Bryan Rumbaugh can see seen in full below.
While Rumbaugh's footage is more serene, another YouTube user with a Blade 350QX Quadcopter had a very different experience on May 24, showing what became of a crossing over the Blanco River, north of Canyon Lake, Texas, and west of Wimberley, Texas. In this video, the waters rage, pummeling the shore line and swallowing trees and anything else in their way. 
President Barack Obama has already declared he'll send federal resources to help central Texas, and the Red Cross is scrambling for volunteers.