Here's What Really Happened to 'Jock Jams,' Everybody's Favorite Stadium Anthems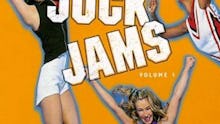 Since the mid '90s, nearly every professional sports game has had essentially the same soundtrack. Songs like "Whoomp! There It Is" by Tag Team or "Tootsee Roll" by 69 Boyz are the sounds that go with the smell of hot dogs and the sight of big foam fingers. Few of us know the names of these sports fan anthems or the artists that created them, but we all know where they came from: Jock Jams.
Jock Jams, the ESPN-affiliated compilation of stadium-certified pump-up jams was an infomercial sensation when it dropped in 1995. It turned songs that had nothing to do with sports — such as 2 Unlimited's "Get Ready for This" and Gary Glitter's "Rock and Roll Part 2" — into immortal anthems that would sound odd if played anywhere outside a stadium today. The compilation was a massive commercial success, with its second volume currently reigning as Paper's No. 1 "All Time Weirdest Certified Platinum Album." 
Today, though Jock Jams is long gone, its jams endure. Here's the story behind the compilation that's now every sports fan's guiltiest pleasure, from its five-volume run to its highly suspicious ending in the early 2000s. 
The creation. The esteemed Tommy Boy Records did a lot for the world. That's the label behind De La Soul's first six records, several of hip-hop legend Afrika Bambaataa's pioneering albums and Coolio's, Gucci Mane's and Queen Latifah's major label debuts. It also brought us Jock Jams.
According to MTV, the idea for the series evolved out of a previous compilation Tommy Boy engineered alongside MTV to raise money for the American Cancer Society. Tom Silverman, Tommy Boy's founder and CEO, saw an opportunity to use the hits that were becoming popular in the country's sports venues as a way to tap into a different audience. The label hooked up with ESPN to make it happen.
Their first attempt was 1994's Jock Rock, featuring a lot of Queen, the Ramones and James Brown. That series was shelved after two volumes (a third appeared much later in 1999). The next iteration, Jock Jams, brought some 1970s rock flair to the mix, revitalizing Village People's "YMCA" and Gary Glitter's "Rock and Roll Part 2," alongside a slew of late '80s and early '90s dance hits and one hit wonders. The first few Jock Jams featured hits such as C&C Music Factory's "Gonna Make You Sweat (Everybody Dance Now)," the peerless "Macarena" and Reel 2 Real's "I Like To Move It." The songs may sound incredibly dated now, but they're still right at home in the stadium.
In fact, their continued popularity surprises even their creators. "People are saying [that at] big NBA sports games and everything, it's always played," Belgian DJ Phil Wilde, who wrote three hits that became jock jams (including 2 Unlimited's "Get Ready for This"), told NPR back in 2010. He sees where the royalty checks are coming from, and they're not from the European discotheques that he wrote the song for.
"They're all psych-up songs, songs that build up energy," Silverman told MTV. "They got your adrenaline going with heart-pumping songs that make the experience more visceral." No song did this more powerfully than Jock Jams' crowning achievement "The Jock Jam."
Released prior to Jock Jams, Volume 3, "The Jock Jam" was released as a single, mashing together the most iconic beats and hooks from the collection. It's an orgy of the chantable hooks, 808 beats and fist-pumping synth lines that represented all the adrenaline-fueled shmaltz the collection celebrated.
The end. Unfortunately, Jock Jams compilations came to an end, along with the '90s. Once the creators ran out of songs from the past and near present, they started having trouble finding enough new material to produce annual collections. And as Now That's What I Call Music became more popular, it put the final nail in Jock Jams' coffin.
"We had to stop doing them because labels wouldn't license their songs to us when the NOW compilations started coming out under a collective revenue-sharing agreement by then [sic] four major labels," Silverman told MTV.
That's right. In a classic '90s Cain and Abel story, Now That's What I Call Music killed Jock Jams.
A long legacy: Thankfully, Jock Jams still live on in the stadium. Silverman estimates the songs they pulled make up 80% of what people hear at games today. Although the name of the compilation fades, the music lives on. Even the new class of sports music — bands like Fall Out Boy — recognize its influence. "You can't keep going back to the Seventies for stadium music," a beleaguered Pete Wentz, Fall Out Boy's bassist and primary lyricist told Rolling Stone. "At some point there has to be something else."
Jock Jams and all its jock fans would beg to differ.