Bernie Sanders Just Fired the Opening Shots of His "Political Revolution" in Vermont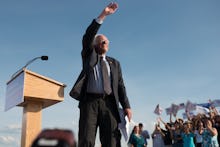 Burlington, Vermont — Sen. Bernie Sanders (I-Vt.) may be a Brooklyn native, but on Tuesday he showed why he's Vermont's favorite son.
The independent senator and candidate for the Democratic presidential nomination took the stage here at Burlington's Waterfront Park to ceremonially kick off a campaign that has been gaining speed and support faster than even the truest believers could have imagined.
"Today, we stand here and say loudly and clearly: Enough is enough," Sanders said, his voice booming up and down the eastern shoreline of Lake Champlain. "This great nation and its government belong to all of the people and not to a handful of billionaires."
The 73-year-old entered the race on April 30, but saved his fiery best for this moment in front of his people, who had gathered by the thousands on the narrow lakeshore promenade he commissioned during his time as mayor from 1981 to 1989.
"Brothers and sisters, now is not the time for thinking small," Sanders said. "We are going to build a movement of millions of Americans who are prepared to stand up and fight back."
Calls for "political revolution" were in the air and on the backs of the sweat-stained shirts worn by a small army of volunteers soliciting information and donations from the early-arriving crowd. Mixing politely were old warriors and young pugilists, along with smiling families happy enough for a day in the sun and a view of the Adirondack Mountains to their west.
Still, this was a tranquil scene for most of the early afternoon. A Burlington band called Mango Jam, who happily noted they had been playing for Sanders for 15 years, provided the soundtrack before the speakers began. Firebrand environmentalist Bill McKibben rallied the swelling crowd, as did ice cream godfathers Ben Cohen and Jerry Greenfield, founders of Ben & Jerry's, another Vermont institution. The company distributed free ice cream to supporters throughout the afternoon and the pair took the stage to enthusiastically introduce Sanders himself. 
"The system isn't broken — it's fixed! It's rigged!" said Greenfield.
When it was his turn to speak, Sanders delivered. Unfazed by the beating sun, the candidate spoke for more than 35 minutes, spelling out in detail the stark rationale for his run — and issuing a call to arms for progressives and a liberal left which has come to feel locked out by the Obama administration.
For Sanders and his allies, this includes boosting the current federal minimum wage, which he called a "starvation wage" at its current rate of $7.25 an hour, an end to "endless war" in the Middle East and health care that "is a right, not a privilege." Public higher education must be free, paid for by a tax on Wall Street, and women, who earn an "unconscionable" 78 cents on the dollar compared to their male colleagues, must be guaranteed equal pay, Sanders argued.
For dedicated supporters of the only "democratic socialist" in Congress, it was the usual spicy fare. "That's Bernie" was the familiar refrain from those gathered on the lawn hours ahead of Sanders' arrival. They knew just what to expect and expected nothing less.
"Every bus ride I hear people talking about him," said Jennifer Tornabe, a young mother of two drawn to the event by Sanders' recent proposal for tuition-free college. "So he's popular around here. He's just 'Bernie.' Our friends see him in the grocery store."
David Weil, 24, a recent graduate of nearby Champlain College, is not a committed Sanders voter, but conceded "his consistency is really admirable and really cool."
"And an event like this is not something you miss in Vermont," Weil said, as he gathered a friend and they went off searching for some space and a view of the candidate.
In a statement released earlier Tuesday, the Sanders campaign said it had signed up 100,000 supporters and volunteers since the beginning of the campaign. It also said it had raised "millions of dollars," and placed the average donation at $40 a person. Officials had previously said that it raked in $3 million in the first four days following his official entry, mostly from small donors.
On Wednesday, Sanders leaves the warm grip of Burlington for the political battleground of New Hampshire, where he will headline three events with voters from the first-in-the-nation primary state. Recent polls show him gaining ground there on frontrunner Hillary Clinton, who hardly managed a mention in Burlington.
"We are going to take this campaign directly to the people," Sanders said toward the end of his speech. "In town meetings, on street corners, my campaign will not be led by gossip or reckless personal attacks. These are serious times and we need serious debates."
For one night in Burlington, the prospect of it seemed as tasty as a loving spoonful of Cherry Garcia.