Let John Oliver Break Down Why the Latest FIFA Corruption Scandal Is Such a Big Deal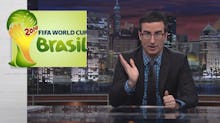 Seven FIFA officials were arrested in Switzerland at the request of the United States after being indicted for corruption and racketeering, when their five-star hotel Baur au Lac in Zurich was raided at dawn Wednesday.
"The indictment alleges corruption that is rampant, systemic, and deep-rooted both abroad and here in the United States," Attorney General Loretta E. Lynch said while announcing the 47 indictments against the defendants Wednesday morning in a Brooklyn, New York, federal court. "All told, the soccer officials are charged with conspiring to solicit and receive well over $150 million in bribes and kickbacks in exchange for their official support," the release read.
The Office of the Attorney General of Switzerland has also launched an investigation "on suspicion of criminal mismanagement and of money laundering in connection with the allocation of the 2018 and 2022 Football World Cups. In the course of the proceedings, electronic data and documents were seized FIFA's head office in Zurich," according to a statement by Swiss authorities.
FIFA said they were "fully cooperating with the investigation" in their own official statement released after the arrests. 
Why is FIFA so bad? In the words of Last Week Tonight host John Oliver in June 2014, "FIFA is a comically grotesque organization." 
As Oliver notes, FIFA is exempt from taxes at every level, and the profits from the World Cup finals all go to FIFA rather than the host country. For example, in the last World Cup, Brazil allowed FIFA to take approximately $250 million they should have paid in taxes. 
In another example of institutionalized corruption, FIFA demanded Brazil pass a bill which overturned the ban on alcohol sale in football stadiums after a spike in sports-related violence and deaths. It was branded the "Budweiser bill" as FIFA's insistence on overturning the law was fueled by one of their main sponsors ... you guessed it, Budweiser. 
Tax exemption and the "Budweiser bill" are examples of FIFA's institutionalized corruption. Oliver doesn't even begin to get into the murky world of racketeering and bribing, which is allegedly commonplace with FIFA officials. It is still yet to be seen if the arrested defendants become scapegoats for FIFA or if these investigations lead to a fundamental change in the way the organization it run.