The Surprising Problem With Denver Comic Con's Women in Comics Panel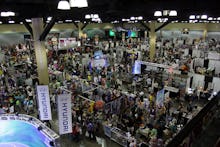 Comics conventions bring fans together to celebrate their love of the form. But many Denver Comic Con attendees expressed frustration with their community last week upon learning a "Women in Comics" panel had an all-male lineup.
The panel was intended to discuss popular female characters and female illustrators "that were able to break in the mostly all-male club of creating comics" and to introduce "many of the female illustrators/creators attending the convention," the event description stated.
Why this was a problem: One attendee tweeted that the panelists addressed female characters in comics primarily "in relation to men." A panelist claimed "girls get bored with comics easily." The same attendee asked why the panel was all-male and was reportedly told that the panel was a late addition to the schedule, so organizers "couldn't find any" female comics experts.
Yet comics writer and artist Trina Robbins, who is widely considered one of the foremost experts on women in comics, was reportedly at the conference — and it's likely she wasn't the only woman in the industry there who could have adequately joined the panel. Other attendees refused to remain silent about this oversight and expressed their frustration and disbelief on Twitter:
On the defensive: Janelle Asselin, senior editor at Comics Alliance and a comic book publisher herself, reported  that a representative for the convention justified the lack of a female panelist at this event: Because the Denver panel "took [a] historical view of women characters in comic books rather than the current role of women creators in the industry or diversity in comics," the panel therefore didn't "have anything to do with industry bias," the representative said. 
But just because the panel was historically centered, Asselin notes, doesn't mean that it's okay "to have only men speaking for and about women." This incident isn't isolated: Plenty have spoken out about the way women are objectified, discriminated against and altogether excluded in comics and graphic novels, as well as the related industry and community.
"Certainly men can be part of the conversation about the place of women in comics throughout history and even today," Asselin writes. "But they should not be the only people speaking, nor should any panels featuring men speaking about women be given a pass because they're about history and not diversity. Women deserve the right to speak about their own history."
h/t Comics Alliance