Diddy Said Black People Are "Committing Genocide on Ourselves" on Instagram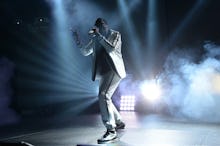 Sean "Diddy" Combs took to Instagram recently with a post that has many people up in arms. The hip-hop mogul's Instagram was a polarizing entry in the long-running debate over cultural and structural racism and their roles in the black community. With his forthright pronouncement, Diddy strongly sided with the culturalist belief that black people aren't taking enough responsibility for their lot in society.
"For the last couple of months we have experienced a lot of injustice and wrongdoings to a community. But there is a flip side. Yes #BLACKLIVESMATTER ! But no one will respect us if we as a people don't have any respect for our own black lives. We are committing genocide on ourselves. We are always looking for scapegoats . We as a people hurt ourselves more than anyone has ever hurt us. That makes no sense. We as a people including myself have to take accountability and do whatever we can do individually or together to stop the madness and realize that we are KINGS and QUEENS AND Must love ourselves and each other. I know I'm rambling a little bit. #BLACKLIVESMATTER SO AS A PEOPLE LETS PRACTICE WHAT WE PREACH.!!! MAY GOD BLESS US ALL! Ii LOVE YOU!!!!!!"
Backlash: Diddy's Instagram post came in the wake of a drive-by shooting that killed New York rapper Lionel "Chinx Drugz" Pickens. Responses to Diddy's Instagram post have come down on both sides of the fence, though they've largely slammed him for ignoring the effects of systemic racism on the black community.
"P. Diddy is a fucking hypocrite, you make money off of the black community with your rap music which glorified ignorance, then you have a clothing line which was VERY popular with the black community. You can't say shit in regards to it because you haven't been in the streets for fucking decades," one Reddit commenter wrote. 
"It's a message that isn't hurled at white people even as they continue to kill one another. Nobody scolded the white community about loving one another after biker gangs in Texas unleashed a wave of bullets on one another," Atlanta Blackstar wrote.
The context: The culturalist explanation of racism is nothing new within the hip-hop community — Kendrick Lamar's album, To Pimp a Butterfly, recently ignited a heated discussion surrounding the topic. In a controversial interview with Billboard, the rapper said, "What happened to [Michael Brown] should've never happened. Never. But when we don't have respect for ourselves, how do we expect them to respect us? It starts from within." In response to that interview, outspoken musician Azealia Banks tweeted, "Lol do you know about the generational effects of poverty, racism and discrimination?" 
Likewise, Diddy's comments largely overlook history and our society's continued state of endemic racism. Comments like these only serve to obscure the vast and often invisible systems of oppression at work in this country.