'Abused Emojis' Are a New Tool in the Effort to Help Domestic Abuse Victims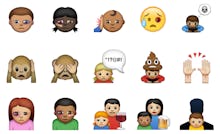 Emojis, the whimsical faces and figures that pepper our daily mobile communication, aren't a resource one would typically think to use when discussing serious issues like domestic violence. But thanks to one nonprofit, the pixelated characters can now be used for exactly this purpose.
BRIS, a Swedish organization that operates a national helpline for kids and teenagers, created the Abused Emoji app to encourage young people to open up about difficult issues like physical, sexual or psychological abuse and alcohol dependence.
"Many of the problems that children face today are stigmatized and often they have no one to talk to but us," the group wrote on the app's website. By designing a brand new set of emojis — an incredibly popular method of communication used across the globe — BRIS hopes to make it easier for young people to come forward.
The Abused Emoji set includes a young boy with a black eye, a girl with a Band-Aid on her face, angry-looking parents sitting next to alcohol, a boy thinking about a skull, and wrists with cuts on them. 
Abused Emoji works the same way as the traditional emoji app: Users install it on an iPhone or Android phone and insert the figures into text messages, emails and any other platform that uses a keyboard. 
Though many of the new emoji convey situations of domestic abuse, they can also be used to describe a variety of other harmful or difficult situations, like depression, suicide and self-harm. It's also not difficult to imagine them being used by adults as well as young people; they're simply there to provide an avenue with which to communicate sensitive circumstances.
"This campaign is [meant] to encourage kids not to sit quiet with their troubles, but to reach out to others," Silvia Ernhagen, the communications director at BRIS, told the Huffington Post. "We think that there's no wrong way to communicate, and we want children to communicate more. Through the Abused Emojis, we want to give them a wider range of emotions and feeling to choose from."
An app like this may raise concerns. Is the person on the receiving end of the message obligated to report the abuse? What happens if the abuser finds out the person has been using the app for this purpose? But BRIS's initiative represents a new and creative attempt to help victims of violence.
"The thing that excites me is it's still a way for someone to communicate a thought, a feeling and not necessarily having the vocabulary for a starting point," Brian Pinero, the National Domestic Violence Hotline's chief programming officer, told the Huffington Post. "If something doesn't feel right ... and an emoji could convey for clarity or be able to initiate conversations, it's huge."
Emojis can be used to express feelings we don't have the words for. While that could mean happiness, anger and surprise, they can be used for more serious purposes as well. Given how common their usage is — and how meaningful they can be — apps like Abused Emoji represent a compelling new platform for our favorite little characters. 
h/t Huffington Post