Meet Patrick, the Robotic Butt That Can Help Doctors Save Your Life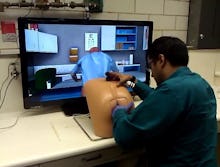 Administering a prostate exam is no walk in the park. It's much more than a simple probe: Doctors must assess the patient's needs, speak compassionately with a vulnerable and uncomfortable person and come to an informed decision. Their bedside manner is crucial.
Medical students can now get accustomed to this complicated procedure without making awkward mistakes with real patients. Meet Patrick, a robotic butt developed by researchers at the University of Florida, Drexel University and the University of Wisconsin and Virtual Patients Group, with support from the National Science Foundation. He's here to help students practice administering prostate exams before getting hands-on with a real patient.
"Currently, students receive minimal practice and interaction in intimate exams due to the high cost for training and high anxiety nature of the exams," Benjamin Lok, the computer scientist leading the research, told the Mary Sue. "Our research group has spent the past four years exploring whether we can improve medical students' preparation and performance in intimate exams using simulations."
Patrick is able to do this because his butt has four sensors. He is able to detect whether a student is using the right amount of pressure and if part of the patient's prostate is being overlooked. Then he can inform the student with direct feedback — something a real patient in a doctor's office might not do.
The stand-alone robotic butt is just the beginning. Patrick is also connected to a video program that students use to interact with their patient. When students walk into the exam room, according to KQED Science, Patrick waits to be greeted and asked routine questions about pain levels and symptoms. (Patrick's main problem, and a telling sign of a prostate issue, is trouble urinating.) He'll also provide his history of family health problems or other medical pitfalls.
"In the experience, the student talks to a virtual person and is able to practice their communication skills," Lok told the Mary Sue. "The students can conduct a realistic prostate exam on the plastic mannequin ... This enables the system to provide a realistic encounter with a virtual patient that includes communication and physical exam components."
This could be a major step forward in getting students comfortable enough for prostate exams, which will, in turn, make exams more comfortable for patients. 
But the best part is Patrick's very true-to-life uneasiness. He doesn't just bend over and let the student get to work; he's realistically uncomfortable, which will help the medical students practice the right mannerisms as well. No one, not even a machine, likes a visit to the proctologist. 
"Patrick expresses fears when the learner brings up the need for a prostate exam," Lok said, according to the Mary Sue. "Thus the student needs to learn and practice empathy. How many of us have gone to the doctor and wished they had worked on their bedside manner skills?"
h/t The Mary Sue