These Badass Girls Are Fighting Back Against Sexist School Dress Codes With #CropTopDay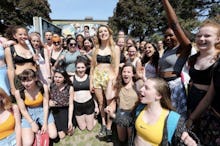 Female students have been battling unfair dress codes for decades. Everything from comfortable, everyday clothing to expensive prom wear is policed by school administrators. But Etobicoke School of the Arts student Alexi Halket in Toronto is leading a group of her peers against this double standard. 
On Monday, a male teacher told Halket that her shirt looked "too much like a sports bra," according to a Facebook post. After Halket refused to change or cover up, she was forced to defend her opinion that her skin shouldn't be "seen as sexual or provocative" to her principal, and was told not to wear the "lineup of cute body positive outfits" that make her feel beautiful, she wrote.
Rather than give up, Halket decided to fight back and declared Tuesday, which was also her birthday, "crop top day," BuzzFeed reported. Plenty of Halket's peers joined her effort and used the hashtag #CropTopDay to document the movement on social media.
The school's student council president, Alexa Bowie, told BuzzFeed that the principal claimed the dress code wasn't intended to sexualize female students' bodies. However, it appears that the mission of Crop Top Day clearly resonates with plenty of students.
"I am so proud of the students and Alexi for coming together and making a change!" Bowie told BuzzFeed. Other students expressed their support for the event on its Facebook page as well.
"If girls get called down to the office for showing 'too much skin' or 'not dressed appropriately' then guys should be called down to when they low-ride or wear muscle tanks," one student commented. "In my experience, women are subject to more discrimination and scrutiny when it comes to the dress code," wrote another.
The bigger picture: The protest's reach with high school students in Canada, the U.S. and beyond shows that these policies hit a nerve. These students are pushing back because they understand dress codes are often inequitably enforced for female students versus male students. It also importantly questions the way these policies regard women's bodies as inherently sexual and as objectified distractions to male students. 
Thanks to students like Halket and her allies, this generation of high school women may finally put an end to this age-old double standard and demand that the world finally value their minds over their bodies.
h/t BuzzFeed