Why Do So Many Romantic Comedies Have Absolutely Ridiculous Premises?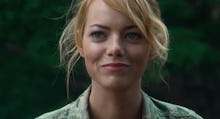 The trailer for Bradley Cooper and Emma Stone's new rom-com Aloha seems inoffensive enough. It's about a screw-up guy falling for a tough but cute woman while battling feelings for his ex-girlfriend. It's a bit of a trifle, maybe, but ultimately harmless.
Would you guess Aloha is actually about the militarization of space?
The plot of Aloha, as the Hollywood Reporter described it, "follows a defense contractor (Cooper) who falls for an Air Force pilot (Stone) after he's assigned to oversee the launch of a weapons satellite from Hawaii." The best thing you could say about this premise is that writer/director Cameron Crowe (Almost Famous, Jerry Maguire) has some creative ideas. The worst thing you could say is it is batshit.
Though Crowe deserves credit for trying to push the boundaries of what a romantic comedy can be, this isn't quite accomplishing that. This is the same story with a gimmick dressing it up. It is not, however, the first rom-com with a ridiculous premise. Here are eight others from over the years that stretch credulity with their plots.
How to Lose a Guy in 10 Days (2003)
Andie (Kate Hudson) needs an idea for a big magazine piece. Her plan: how to make a guy break up with you in 10 days. Ben (Matthew McConaughey) makes a bet: make a girl fall in love in 10 days. How to Lose a Guy in 10 Days is contrived, with two pretty awful people using each other for their own personal gain. Yes, they fall in love at the end, but it doesn't feel earned. These sort of gamified rom-coms were briefly positive in the late-'90s and early-Aughts, but you can't quite root for people using one another this way.
Win a Date with Tad Hamilton! (2004)
Rosalee (Kate Bosworth) wins a date with actor Tad Hamilton — spoiler if you haven't read the title. Pete (Topher Grace), her coworker, is secretly in love with her. Unfortunately for him, Tad looks like Josh Duhamel, in all his shirtless glory, and he's a charmer. This one may be a game like How to Lose a Guy in 10 Days, but it's got an earnest center in Rosalee and Pete's relationship. Win a Date with Tad Hamilton! is better than its reputation — and its premise.
Beauty & the Briefcase (2010)
This ABC Family movie doesn't deserve to be held to the same standard as a feature. That's OK, though: Beauty & the Briefcase would be repellant at any level. Lane (Hilary Duff) pitches a story to Cosmopolitan about dating businessmen. She goes undercover to get the scoop, but winds up falling in love with the wrong man. The ending is condescending, while the movie itself is a bit of a How to Lose a Guy in 10 Days derivative. Duff deserved better than this.
She's All That (1999)
You probably heard about the remake of She's All That in the works — which, if you know the original, is a potentially disastrous idea. Laney (Rachael Leigh Cook) is a nerdy artist. Zack (Freddie Prinze, Jr.) is a clean-cut jock. Zack gets dared by his friend Dean (the late Paul Walker) to make Laney over. He realizes she's beautiful basically because she takes her glasses off. It's a wonder the movie is as charming as it is — helped by a dance sequence and a recurring cameo by Usher — because the core premise is gross.
Rumor Has It... (2005)
Remember this weird Jennifer Aniston movie? It had an all-star cast — Mark Ruffalo! Shirley MacLaine! Kevin Costner! — and a wacky rumor as its basis. That rumor: What if Mrs. Robinson from The Graduate was real? Rumor Has It... isn't particularly funny, and the romance at its center, between Aniston's New York Times writer Sarah and Ruffalo's Jeff, is pretty stale. This is one you can imagine its stars wish wasn't littering their IMDb pages.
Over Her Dead Body (2008)
Eva Longoria is dead. Don't feel too bad for her; her character Kate may have died on the day of her wedding to Henry (Paul Rudd), but she's spending her afterlife making his life hell. He tried to move on with a psychic woman named Ashley (Lake Bell), but Kate torments them from beyond the grave. Over Her Dead Body is a bizarre little movie, kind of like Ghost if Patrick Swayze's character was a dick instead of a hero. Why audiences would want to watch that movie is anyone's guess.
All About Steve (2009)
Aniston may regret Rumor Has It... but Sandra Bullock is still proud of All About Steve. She happily accepted her Razzie Award for worst actress for this weird romantic comedy while still defending what the creative team was trying to do. In a way, despite the movie's atrocious reviews, you can understand what she means. The story about a woman obsessed with a news cameraman (Cooper, long before Aloha was an off-color twinkle in his eye) after one date might've been reductive, but it was also a romantic comedy ending with a woman choosing herself instead of getting the guy. That makes it an unusual entry into the genre indeed.
She's the Man (2006)
Don't blame Shakespeare. Though She's the Man is based on the Bard's Twelfth Night, or What You Will, it was translated into a soccer comedy about Viola (Amanda Bynes) proving herself on the pitch by crossdressing as her brother. Like the original play, it also featured said girl falling for Duke (Channing Tatum), who's in love with Olivia (Laura Ramsey), who thinks she's in love with Sebastian but is actually in love with Viola in drag as Sebastian. 
Confused? It's best to enjoy this one without thinking too hard. She's the Man is a guilty pleasure, even if it maybe should have left the Shakespeare adaptation angle at the door.