Amy Schumer, Lena Dunham and More Share Their Most Sexist Hollywood Moments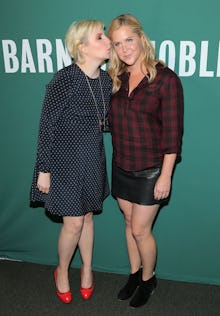 "I hate this job. I can't wait to be back on a show where there's a man at the helm."
That's what Lena Dunham heard one of her male costars say on Girls. It was one of the most sexist things to happen to her in Hollywood. Unfortunately, it's just one of the many discriminatory experiences actresses and other female crew members face in the TV and film industry.
In a roundtable interview with the Hollywood Reporter, Dunham and five other comedy series stars — Amy Schumer (Inside Amy Schumer), Gina Rodriguez (Jane the Virgin), Ellie Kemper (Unbreakable Kimmy Schmidt), Kate McKinnon (Saturday Night Live) and Tracee Ellis Ross (Black-ish) — dished on sexism, racism, performing in comedy and still fighting the trope that women aren't funny. 
As could be expected, considering the caliber of the performers collected, it's a hilarious interview. Yet it's also an incredibly real interview, with no punches pulled.
What happened to Rodriguez was perhaps more subtle, but just as sexist. She had tried out for a comedic role and was a favorite to get it, but was told she had to come back in with a sexier look. That wasn't part of the character, as Rodriguez noted, but that was the point. They wanted to know how she would look on a magazine cover.
"They don't want me," Rodriguez realized at the time.
Ross talked about her experience making 176 episodes of Girlfriends, a UPN show with four black women as its cast. Unfortunately, even as networks diversify with shows like Empire, Jane the Virgin and Ross' Black-ish, that format remains an outlier.
"Being on a show run by a woman with four women leads gives you a template that when you walk out into the world, you don't see it," Ross said. "It changed my expectations."
When asked if they felt a responsibility to stand up to sexism and racism, the interviewees regretted a culture of "ignorance," as Schumer put it. 
"People are unwilling to learn," Dunham added. "There was a big issue a few years ago with Daniel Tosh and rape jokes. But there couldn't be a civil conversation about it within the comedy community. I'm a sexual-assault survivor, so I would love to sit down and have a totally nonjudgmental conversation with a male comedian who makes rape jokes. But there isn't room for that."
In one of the final sections, when asked about fighting for equal pay in Hollywood, Kemper related something she'd heard from an industry executive: "If you don't ask for it, we can't give it to you." It may seem harsh, but it's why books like Lean In (name checked by Dunham in the interview) are all the more important. Women in Hollywood are battling sexism every day, and we need more heroes like these six women to put up the good fight.
"We can't go through our lives just being grateful for everything," Kemper added.
Read the full interview at the Hollywood Reporter.