The Most Important Porn Film You'll Ever See Is Coming to Netflix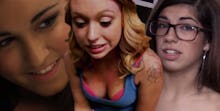 "The amateur porn world, you're just processed meat."
So declares Rachel, a former porn actress known as Ava Taylor, who, at the age of 18, moved from Oswego, Illinois, to Miami to try to make it big as an adult film star. She lasted just six months in the industry.
Rachel, who quit porn to pursue photography, is one of the subjects of the Rashida Jones-produced Hot Girls Wanted, a documentary that premiered at the Sundance Film Festival in January and will make its Netflix debut May 29. Billed as "a documentary about porn, the Internet and the girl next door," the film examines the burgeoning amateur porn industry and the young women who enter into it.
Rashida Jones is sharing a side of the porn industry we all need to know. The film sheds light on the dangers of amateur porn, a subset of the pornography industry that features films designed to look homemade, though they feature paid actors and actresses. The genre is easy for brand-new performers to break into, as the demand for inexperienced performers is what keeps the industry running.
"Everybody, when they're 18, makes stupid mistakes," Jones told Vanity Fair. "[But] the cost of this is pretty high. The moral of the story is, at 18, there may be better options to help you get out of your town." While the industry promises fame and a fat paycheck, the pitfalls can be acute, and that's what Hot Girls Wanted makes clear.
Jones, who starred on Parks and Recreation and The Office, throws back the covers on the culture that supports the amateur-porn industry and reveals the unsettling consequences for the teenagers who leave their lives behind for porn.
Hot Girls Wanted follows five women — Michelle, Karly and Trella, all 19; Jade, 25; and Rachel — as they launch their careers. Riley, the 23-year-old talent agent who brought the girls to Miami, describes amateur porn as "regular girls pretty much gettin' freaky-deaky." The female stars are supposed to look like young teenagers — the typical girls next door.
Often, however, the girls are just as young and untested as the characters they play onscreen. Trella, who goes by Stella May, chose the adult film industry instead of college; a few other subjects express a similar desire to escape the confines of their small towns. "Every day a new girl turns 18, and every day a new girl wants to do porn," Riley says in the film. In the fantasy world of amateur pornography, that girl will likely play a sexually inexperienced — but willing and able — plaything.
According to the documentary, new girls typically film between three and five scenes per week and earn about $800 or more per scene, depending on what's involved. (An anal-sex scene, for example, nets about $150 more.) "It's a lot of money for a girl," says Michelle. "Why not? I do it" — have sex — "anyway."
"Every day a new girl turns 18, and every day a new girl wants to do porn."
The Internet has changed things. Free streaming porn has dramatically affected the adult film industry; it's just too easy to find free pirated content online. But websites full of brand-new girls starring in amateur porn have become surprisingly lucrative, due in part to subscription fees. According to Hot Girls Wanted, the top three sites are now worth $50 million. 
The industry's obsession with youth is partly to blame for this uptick. The allure of inexperience and innocence sells, and the amateur-porn industry has taken full advantage of that.
Amateur porn is easier than ever to access on streaming-porn sites. The Internet has also made it easier for porn producers to find young amateurs. Riley, the agent tasked with hiring the talent, finds most of his girls through Craigslist; he posts ads looking for models and "female talent," luring them in with promises of flights to Miami and big paychecks. Toward the end of the film, when a new batch of girls arrives at Riley's five-bedroom Florida home, we hear a chorus of "Craigslist!" when the girls are asked how they found the gig.
The advent of social media has also made self-promotion, the lifeblood of a little-known porn actress who wants to make it big, much easier to control. The girls maintain Twitter, Instagram and Vine accounts, cultivate original online personas and use them to build large and devoted fanbases.
But the pitfalls are numerous: The film presents a sympathetic portrait of its young subjects but turns a decidedly harsher eye to the amateur porn industry. 
In Hot Girls Wanted, Trella receives treatment for a vaginal cyst she developed from extended sex. A photographer tells Michelle his erection will disappear if she doesn't strike sexier poses. Rachel discusses her discomfort after arriving to what she thought was an oral sex scene only to find it was actually a "forced blowjob." "I was scared," she tells a friend. "I was terrified. I didn't know if I could tell him no. ... Did I really want money that bad?"
The kind of scene Rachel describes is known as abuse porn, the forcibly violent kind that focuses on the degradation of women. The women in Hot Girls Wanted begin to do more and more of it because, as they spend more time in the industry, their appeal and ability to book "regular" gigs begins to wane; these niche jobs are often what will pay the bills. It's an especially disturbing turn in a film with no shortage of distressing material.
Jade, who has been in and out of the industry for two years, describes the degradation as a trade-off. "I'm here to put on a show," she tells the camera. "I'm not here to be comfortable. I come and put on a show and make myself uncomfortable so you can get off so I can get paid and be comfortable on my own time."
The girls aren't without agency, however: A film like Hot Girls Wanted walks a tricky line: The girls are adults capable of making their own decisions, and their chosen occupation should not brand them as victims. In the beginning, at least, they seem perfectly happy with these choices. "We're free right now," Rachel tells the camera early on while smoking a blunt. "The world is in our hands."
What we see as the film progresses, however, is an environment in which this freedom begins to disappear and is replaced by confines and industry pressures. The lifestyle is expensive to maintain — the girls must pay for regular STI tests, underwear, makeup, nail care and rent — and eventually, the psychological toll of the job begins to show.
Jones noted that her interest in producing the film came from a problem with the way women have been overly sexualized in popular culture. 
"There's something of a protection of people's private sexual fantasies, I think, which is kind of a funny contrast in this country cause everybody's like obsessed with sex," she told the Associated Press. "I personally have no problem with that. What I have a problem with is that the tipping point — it became that it was so pro forma for women to be sexualized on a mainstream level that it's the only way to be sexy. It's just this one way and it's the porn way, it's the stripper way."
This isn't new. Porn has been around for a long time. What is new, however, is how porn is consumed and produced in the digital age. It's easier than ever to make, access and star in porn, and as Hot Girls Wanted makes clear, that's largely thanks to the Internet. 
Trella, who lasted four months in amateur porn, is just a single casualty in this new and relatively wild landscape. But as her story reveals, it's not without consequence. When she tells Riley she's quitting porn, he doesn't try to stop her. After she gets off he phone, she starts speaking to the camera.
"That's a relief," she says.