Cleveland Police Will Require Officers to Make a Record of Every Time They Draw Their Guns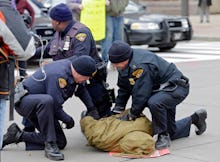 The Cleveland Police Department has assented to a groundbreaking settlement with the Department of Justice in which the police department will agree to "follow some of the most exacting standards in the nation over how and when its officers can use force," the New York Times reports. Perhaps most notably, new standards will require all officers to make a report of every time they unholster their firearm.
What's changing: According to the Times, law enforcement personnel working for Cleveland will no long be permitted to draw their weapons without explicitly reporting why they felt lethal force to superiors. Officers are also prohibited from using force to punish criminal suspects for talking back or running away, as well as pistol-whipping people or firing warning shots. 
Additionally, the city's stun guns will be monitored digitally, and police will be held accountable for every time they are used. The department will periodically review those digital records to ensure they match up with officers' reports. 
Most importantly, the department will accept the authority of an independently appointed overseer who will have broad powers to demand the department complies with these rules.
Long time coming? These are all things that should frankly be standard for large police departments across the country, but progress is progress. For decades, Cleveland police have been out of control. From wild car chases to shooting children, the department has long felt free to violate citizens' rights without any fear of discipline. These new regulations aim to change that.
The DOJ investigation accused Cleveland police of everything from widespread and reckless use of deadly force and "retaliatory" use of non-lethal weaponry to routinely placing officers in situations where inappropriate use of force was inevitable. 
It even said Cleveland officers called in to perform duties like welfare checks, where police simply visit a residence to ensure no one is in need of assistance, often used inappropriate violence. Furthermore, the DOJ said there was no oversight mechanism in the city to investigate or remedy any of these abuses.
Why you should care: According to the Plain Dealer, lawsuits involving Cleveland police have racked up over $10.5 million in damages since 2004. In a country where police departments never seem to reform themselves in any meaningful capacity, federally imposed agreements like these may be the only chance citizens living in cities where the police are out of control have to actually experience any change.
The imposition of gun unholstering regulations is particularly notable considering the rampant problem of police shootings in the U.S. Though hard data is nearly impossible to find, by some estimates, over 100 people are shot and killed by police each month. Though other issues influences those high numbers, holding officers accountable every time they so much as reach for their weapon may be an important step in lowering their problematic figure.
With the Department of Justice pursuing similar investigations in cities all across the country, including Baltimore, similar efforts may yet result in a thin ray of hope for other cities plagued by police violence.