12 Striking Images Show the Side of Africa's History You've Never Seen Before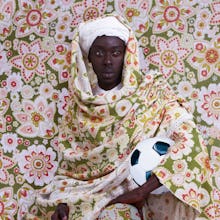 African soccer players in Europe lead a life defined by paradoxes.
On the one hand, they're admired, praised for their skills and social influence and upheld as athletic royalty. On the other, they are strangers in a strange land: The racism they encounter in stadiums across the continent — from fans shouting racial epithets to throwing bananas on the field as they pass — proves how hostile and isolating black life in Europe can still be.
So it's no surprise that Senegalese artist Omar Victor Diop chose the sport as a metaphor in his new project, a visual motif linking Africa's past transplants in Europe to those living on the continent today.
In his latest photo series, Project Diaspora, Diop chose figures of African descent who played notable roles in European history. Their lives span the period between the 16th and 19th centuries, an era notable for both the intermittent appearance of such figures in European art and for how little most people actually know about them — even in Africa.
Using himself as the subject, Diop recreated these classic paintings as photographic self-portraits, adding soccer balls, cleats and other athletic gear to complete the symbolic link between past and present.
"As I discovered [these] very striking portraits painted by renowned European artists, I felt the need to dig in further and know more about these characters, whom I had never heard of," Diop told Mic via email. "After a few months of research, I had unveiled enough stories to wonder how I could conceive a body of work that would share their exceptional destinies."
Diop's series comes at an especially fraught time for relations between Europe and African migrants. In 2015 alone, 1,776 people, mostly from sub-Saharan Africa and the Middle East, have either drowned or gone missing during the dangerous overseas trek from northern Africa to southern Europe, the Guardian reports. In a particularly tragic incident in April, an estimated 800 people were killed when their boat capsized off the coast of Libya.
The European Union has responded to this influx of migrants with a combination of rescue aid and militarized deterrence, neither of which has done much to stem the flow of people attempting the trek or to integrate them into European society.
In response, Diop aimed to portray his figures "in a way that would positively contribute to the current conversation on migrations from Africa, the role that Africans have played in the human experience that we refer to as 'history,'" he told Mic.
The project is ultimately meant to push back against the notion that Africans' contributions to Europe are lacking, novel or even exclusively predicated on slavery and colonialism — though the latter is an unavoidable part of the conversation. But it's not the only part, as Diop is quick to point out.
"People don't know much about the relationship between Africans and the rest of the world," he told Mic. "Very few people know that some African kings and queens had diplomatic relationships with their European peers. Even on the topic of migrations between Africa and Europe, the current conversation tends to have a very narrow analysis of the phenomenon, while actually Africans have been traveling in and out of Europe for centuries, as traders, soldiers, pilgrims or diplomats."
It's a lot of missing knowledge to make up for. Diop's work is an important step toward doing so, and a necessary contribution to this persistently under-told part of history.
These photos have been cropped or otherwise formatted to fit this article. For more of Omar Victor Diop's work, visit his website, gallery site, or find him on Facebook and Twitter.