1997 Was the Definitive Year for Your '90s Guilty Pleasures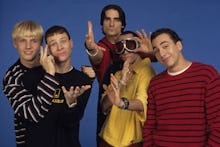 Let's be honest with ourselves — the 1990s were not a particularly bright spot for pop music. Much of it was sickly sweet, dominated by overly orchestrated boy bands and too-cheery girl power pop. But would we really have it any other way? 
Pop music in the '90s may not have been challenging, but it was catchy as hell, and fun to boot. And at no time during the decade was that truer than in 1997, the year that brought us such cultural milestones as Internet Explorer 4 and Liar Liar. Of all the '90s pop songs that you love to hate — or hate to love — chances are many of them came in '97. So put down the Goosebumps, turn off that Oregon Trail and forcefully silence your Furby with a pillow. Let's take a musical trip back to 1997. 
"I Believe I Can Fly" by R. Kelly
The R&B star wrote this song, the biggest of his career, for the Space Jam soundtrack. The Warner Bros. movie was released in 1996, but its hit song topped the charts in early 1997 and was thenceforth inescapable. "The Space Jam soundtrack was a collection of pop, hip-hop and R&B," Slate wrote. "And to the surprise of most, it was all really, really good." The song won three Grammy Awards and, more importantly, spawned several parodies.
"Wannabe" by Spice Girls
In February 1997, the Spice Girls debuted in the U.S. at No. 1 with this catchy song. It was their first big hit, but not their last — as Billboard reports, "they followed with six more consecutive top 20 hits over the next two years." And Time magazine added in their coverage of a study claiming "Wannabe" was quite possibly the catchiest song, "It's a Spice Girls world and we're all living in it."
"MMMBop" by Hanson
This Hanson classic, which peaked in popularity during the summer of '97, is simultaneously one of the most successful and most hated songs of all time. Its gibberish chorus had hordes of teenage girls singing along and swooning over the trio of blonde brothers. "'MMMBop' was a phenomenon partly because it was a fresh and different sound," Zac Hanson told Mashable recently. "And so it's really like can you have that perfect storm of the cultural shift, your music falling at the right time, connecting with generations."
"Bitch" by Meredith Brooks
Lots of people in '97 thought this song was by Alanis Morissette, and you better believe it bugged Brooks. "It has really started to bother me how much these [Morissette comparisons] have been such a focus of everything written about me," Brooks told the Los Angeles Times. "I didn't think it would be like this." At any rate, it was a kick-ass female empowerment anthem at a time when Lilith Fair fare dominated the radio.
"The Freshmen" by the Verve Pipe
This '90s mainstay was released by the Verve Pipe (not to be confused with the Verve) as a single in the summer of '97. The song, fittingly, was written for their debut album, but they re-recorded it and released a new version in 1997. That version would mark their only significant hit — the foundation for their whole career.
"Da Dip" by Freak Nasty
One-hit wonder Freak Nasty helped popularize one of the biggest dance fads of the '90s thanks to his hit. Though the song was released in '96, it took a while for it to heat up and didn't reach the charts until '97. Billboard wrote of the Atlanta rapper: "Freak Nasty was hardly a talented rapper — he was clumsy and often tripped over his rhymes — but he did manage to write an incessantly catchy song with 'Da Dip.'"
"All For You" by Sister Hazel
Nope, that's not Blues Traveler. Florida-based rock-twang band Sister Hazel saw success in '97 with their song, "All For You." Apparently (and not surprisingly, to be honest) singer Ken Block wrote the song in less than a day. "I finished that song that afternoon in about an hour and a half," he told WhistleStop. "And sure enough that song got picked to be on the compilation and it opened up a whole bunch of doors for me."
"No Diggity" by Blackstreet
This massive R&B hit, which sampled Bill Withers' "Grandma's Hands," spanned the better part of the late '90s. It sold 1.6 million copies in '96 (and its video was only released in August), charted at No. 23 on Billboard's '97 Year-End Chart and won two Grammys in '98. Billboard called the Dr. Dre-assisted track an "inescapable smash single." 
"Where Have All the Cowboys Gone" by Paula Cole
Rolling Stone called Cole "the quintessential Lilith Fair singer." Her biggest hit was "Cowboys," which helped her win the '97 Grammy for best new artist (and landed her on Rolling Stone's list, "strangest best new artist Grammy wins"). This song came before her next big hit and Dawson's Creek theme song, "I Don't Wanna Wait" in '98. Billboard called "Cowboy" a "word-of-mouth hit" that helped cement Cole as one of the founding mothers of Lilith Fair.
"Sunny Came Home" by Shawn Colvin
This was one of the most critically successful songs of '97 — it won the 1998 Grammy for both record of the year and song of the year. Colvin is a folk singer from South Dakota who had notable success before "Sunny," winning the Grammy for best contemporary folk album in '89. But she's perhaps best known for being the musician whose Grammys acceptance speech was interrupted by Ol' Dirty Bastard's famous "Wu Tang is for the children."
"Tubthumping" by Chumbawamba
Though Chumbawamba are a British anarchist pop group, they signed to a major label in '97 and quickly had their first mainstream success with "Tubthumping." They released a couple of other semi-successful songs, and a huge number of albums, but nothing with nearly as much reach as their ubiquitous piss-inspired '97 smash. "There's no denying that "Tubthumping" is a hit single unlike any other," AllMusic wrote. "It's one of the least likely hit singles ever."
"Barbie Girl" by Aqua
When Danish pop group Aqua released this debut single in 1997, it became the highest-charting debut ever for a new group at the time. It was a success that helped define the entire decade, and was so successful that Barbie-maker Mattel took out a lawsuit against the band. Mattel claimed in court that Aqua's lyrics "associate sexual and other unsavory themes with Mattel's Barbie products." The lawsuit eventually ended in 2002 in favor of Aqua.
"Bittersweet Symphony" by the Verve
Oasis frontman Noel Gallagher once called British band the Verve, "one of the most important bands in history," according to BBC. "Bittersweet Symphony," became one of the biggest songs in the U.K. and the U.S. in '97 — the BBC said the song was "almost inescapable." But it all ended badly when it was discovered that the song was a rip-off of Andrew Loog Oldham's version of the Rolling Stones' "The Last Time."
"As Long As You Love Me" by Backstreet Boys
This song was the Backstreet Boys' sixth top 10 hit, and came just after "Everybody (Backstreet's Back)." It was one of their breakout hits, the kind that built the cult following who now joins them on the Backstreet Boys Cruise. Who knew the Backstreet Boys' legacy would be so damn enduring? They just won't go away.
"Men in Black" by Will Smith
Smith released this solo single for the '97 movie he starred in of the same name, both of which became '90s phenomena. "Will Smith is indisputably the man," Rolling Stone wrote in '97. That about sums it up.
"Fly" by Sugar Ray
Does anybody actually know the words to the beginning of this song? The party slammer showed up on Sugar Ray's '97 album, Floored, and was the band's first hit. "Fly," which sounded very little like the rest of the album with its reggae influence, helped Floored gain multi-platinum certification. But, "when Floored failed to produce a significant follow-up hit," AllMusic wrote, "many assumed that 'Fly' was a fluke that the band would never be able to repeat." To the surprise of many, Sugar Ray hit the charts again later on with "Every Morning." They've been making shitty cameo appearances ever since. 
"One Headlight" by the Wallflowers
This jam, written by Bob Dylan's son Jakob and produced by T-Bone Burnett, wasn't eligible to chart in the U.S., but saw a lot of airplay nonetheless. American Songwriter called the album that song appeared on "one of the landmark albums of the 90s." Dylan told them in a recent interview, "I don't think anybody can imagine [the kind of impact the album had]. Our goals at that point were to make a record and be able to go back on tour and go out there and bring music to people. I don't think we had those kind of expectations."
"Show Me Love" by Robyn
Remember when Robyn ruled the '90s? The Swedish pop star released "Show Me Love" (one of the best pop songs of all time, in my opinion — not surprising, considering it was cowritten with her fellow Swede Max Martin) as the second single off her debut album, Robyn Is Here. That single was a top 10 hit, and Robyn was supposed to go on tour with the Backstreet Boys but had to pull out at the last minute due to exhaustion. It's all good, though — "Dancing On My Own" was an amazing comeback.
"Truly Madly Deeply" by Savage Garden
This song was the third single from Savage Garden's self-titled 1997 album, and was named after a 1990 British film of the same name (that the lead singer wrongly assumed no one had seen). Billboard anointed the song their 35th greatest No. 1 hit of all time, which is quite the accomplishment for a kind of lame song about bathing in the sea.