Shocking Photo Shows Chicago Police Officers Holding Down a Black Man in Antlers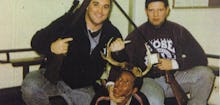 The Chicago Police Department didn't want anyone to see this photograph.
Believed to have been taken at some time between 1999 and 2003, this Polaroid published late Tuesday shows white former CPD Officers Timothy McDermott and Jerome Finnigan posing with what the Chicago Sun-Times reports police admit is an "unidentified African-American drug suspect" wearing antlers. Both law enforcement personnel can be seen toting rifles, as if the black man under their knees were a hunting trophy.
Federal prosecutors gave the department the photo in 2013 after, as NBC Chicago reported, they successfully charged Finnigan with "ordering a hit on another officer and a tax charge" in 2011. 
"I do remember an incident where I took a photo with Finnigan, and it appears that this is it," McDermott said, according to a transcript reported by the Sun-Times. "Finnigan called me over, told me to get in the picture, and I sat in the picture. The photo was taken, and I went back to the business I was doing that day."
Who are these guys? Finnigan was a leader in the Chicago Police Department's Special Operations Section, which was officially an elite plain clothes unit but moonlit as an organized gang that carried out hundreds of thousands of dollars' worth of robberies. One city firefighter alleged Finnigan and his unit broke into his house and "tortured" him. According to the NBC Chicago, 
"The most egregious theft listed in the article was when Finnigan and two partners stole $450,000. The group, according to the article, stopped a driver of a pickup truck and handcuffed and frisked him. Then, with guns drawn, they searched his house, finding a leather bag filled with bricks of cash. Finnigan split the money with the two officers."
The unit was disbanded in 2007, and Finnigan and three other officers from the unit were brought up on federal charges. Finnigan is currently serving a 12-year sentence in prison.
The Sun-Times reports McDermott was a member of the same SOS squad and was named in four separate lawsuits against the department that paid out a total of $162,000 in damages. McDermott was fired in 2014 after city officials obtained the incriminating photograph.
According to the Sun-Times, CPD attorneys tried to keep the photo sealed, arguing they wanted to protect the privacy of the unknown suspect. The black man in the photo was never identified because Finnigan failed to file an arrest report.
"The fact that a police officer who was involved in the incident now wants his job back is reason enough to run the photograph," Jim Kirk, the Sun-Times editor in chief, wrote in an editorial. "This is an ongoing news story, not just about one officer's career but about how a big-city police department commits itself — to this day — to the highest professional standards. For us to hold the photo back would have been no more defensible than the police holding it back."