A Doll This Mom Created Is Breaking Barriers for Black Girls Everywhere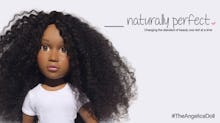 When Angelica Sweeting's daughter Sophia said she wanted "'yellow hair' and white skin like her dolls had so that she could be pretty," Sweeting sought a doll that looked a lot more like her daughter. When she only found dolls that were essentially a "spray-painted" version of a doll with white features, Sweeting took matters into her own hands, the Mary Sue reported Wednesday.
Sweeting created "The Angelica Doll," with "facial features true to women of color and hair you can style/wash as natural hair," according to her Kickstarter campaign, which has already raised more than to $54,000  — more than twice as much as her original $25,000 goal.
Sweeting knows from personal experience how impactful such a doll could potentially be. 
"I realized that I had been influenced by society's standard of beauty for as long as I could remember," she explained on Kickstarer. "Here I am – 27 years old, and I am honestly just beginning to walk into who I am, my natural beauty. I want this to happen earlier, not only for my daughters but for your daughter, your niece, your sister and for all young girls around the world. I want this to happen for all the young girls who never felt pretty enough because of their kinks, curls, wider noses or fuller lips."
Sweeting is not the only one who feels this way. "Having a doll like this would've been so beneficial in my childhood," Bustle's Lauren Turner wrote. "I definitely thought I was supposed to look like Barbie, and have forever been affected by that. Like Sweeting, it has taken me my whole life to feel comfortable in my skin, and I would like to hope that a doll like this would have the power to change that for little black girls to come."
The doll of the future: Though presenting alternative beauty standards is important, this doll further moves beyond looks alone. "The Angelica Doll is a courageous, bold entrepreneur full of self belief, natural beauty, and perseverance," Sweeting said on Kickstarter. Dolls further down the line will have careers that "expose young girls to what is happening in the world now, and the many possibilities they have in the future," including engineering, journalism, and software development. 
These toys matter, considering that studies show dolls can affect the way a child feels about her own body image and career aspirations. The Angelica Doll has the potential to be more than just an alternative to Barbie, but can help countless young girls realize that they are beautiful and valuable too.
h/t The Mary Sue