Taylor Swift Just Accomplished Something Incredible That Nobody Has Since Adele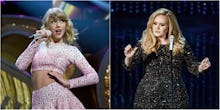 Taylor Swift's 1989 is out for blood. Thanks to the album's latest single, "Bad Blood" featuring Kendrick Lamar, Swift just became the first musician since Adele to put three singles from the same album at No. 1 on the Billboard Hot 100. She can't be stopped.
Her latest success is in large part due to the A-list music video that she premiered at the Billboard Music Awards on May 17; 99% of the streaming song traffic for "Bad Blood" came from the official video, according to Billboard. That puts "Bad Blood" in the company of two other Swift songs from 1989 to hit No. 1: "Shake It Off" and "Blank Space."
The accomplishment is just the latest in a long line of history-making moves to come from 1989.
In mid-May, "Bad Blood" broke another record by earning 20.1 million views on Vevo within the first day of its release, shattering the Vevo streaming record previously held by Nicki Minaj's "Anaconda." And in February, Swift did what only Whitney Houston had done before, becoming the only other female artist to place multiple albums at the No. 1 spot for over 10 weeks on the Billboard 200.
That's huge, especially considering albums have largely been written off as a dying medium. Further proof that Swift makes her own trends, 1989 was the most successful record debut since 2002. "There are many (many) people who predict the downfall of music sales and the irrelevancy of the album as an economic entity," Swift wrote in a Wall Street Journal op-ed in 2014. "I am not one of them."
Swift isn't the only one notching historic achievements. With the new ranking for "Bad Blood," the cowriter and producer of the song, megahit mastermind Max Martin, has earned his 20th No. 1 single. That puts him in dignified company, in third place among writers who've had No. 1s, behind only Paul McCartney and John Lennon. Martin's first No. 1 came in 1999 with Britney Spears' "...Baby One More Time" and also includes hits like Katy Perry's "I Kissed a Girl" and 'N SYNC's "It's Gonna Be Me." 
With each new accomplishment, Swift is turning into an unstoppable hit-making machine. 
h/t Billboard