This Photo of a Young Graduate Is Going Viral for a Surprisingly Wonderful Reason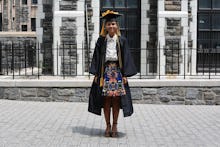 The ongoing photo project Humans of New York posted an image of a young woman adorned in graduation regalia on Wednesday, but this smiling graduate is different from most of her peers: In the caption, she is quoted as simply stating, "I'm an illegal immigrant." The photo went viral overnight, but not for the reason one may think. 
Americans largely have a more positive view of immigrants than negative, according to Pew Research Center, but conservative sentiment mired in xenophobia dominates the media landscape. However, responses to this young woman's pithy sentence about being undocumented have largely been messages of compassion and celebration.
The responses portray a different kind of America, one in which the American dream is possible for anyone who wants to take it. 
The positive media coverage of a group of immigrant students who were accepted into all eight Ivy League schools this spring indicates that public opinion is favorable when it comes to stories about people achieving the American dream, regardless of their citizenship status. This sentiment was true of the HoNY comments, as many celebrated and even defended this young woman.
Some were even inspired to share their own immigration stories:
Others noted that the young woman's comment could be interpreted as a joke, if she was in the U.S. through an educational visa, which would have expired upon graduating. 
Regardless, this student represents a growing minority in America. Many undocumented students, the Atlantic reports, are now able to earn their degrees without legal impediment thanks to President Barack Obama's 2012 Deferred Action for Childhood Arrivals (DACA) program.
Immigration will be a topic of considerable importance during the 2016 election cycle. The humans of America should take note not only of the beaming graduate in HoNY's photo, but of the increasingly positive opinion of immigrants reflected by the comments. 
h/t BuzzFeed