'19 Kids and Counting' Pulled from Hulu — What's TLC's Next Move?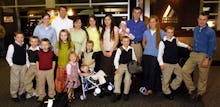 Hulu is down to zero kids — and won't be counting up any time soon.
As first reported by TMZ, the streaming service pulled all episodes of the Duggar family's series 19 Kids and Counting. The page's URL now leads to a 404 error page, while searching for the episodes leads to a grid of video links that redirect to TLC's website. Below each episode's description, it reads, "Selecting this video will open a new browser window — you will leave hulu.com and go to TLC."
The move is only the latest bit of bad news for the show in the wake of series star Josh Duggar's admission of having molested several young girls, including his sisters. However, the question remains: What will TLC do about 19 Kids and Counting?
On Friday, TLC pulled airings of 19 Kids and Counting from their schedule, but notably didn't give any indication whether future production of the show was canceled. The network pulled something akin to when A&E "suspended" Duck Dynasty star Phil Robertson after he made anti-gay remarks in an interview. The punishment was over in less than two weeks.
The molestation admission will likely carry a more permanent punishment. Several sponsors, including Pizza Hut, Walgreens and Crayola, have terminated their deals with 19 Kids and Counting. TMZ speculated Thursday it was "way more likely than not" that the show would be canceled based on sources within the network.
The most likely option, it seems, is TLC would produce a spinoff series focusing on younger Duggars Jill and Jessa, both of whom have gotten married during the show's seven-year run. That's what People reported Wednesday, based on what they called a source close to the family.
Whatever the network decides, they need to choose fast. As sponsors continue to bail and other supporters like Hulu turn their backs, TLC's silence so far seems more and more passive in a situation that calls for action. Now is the time to make a move — hopefully one that puts Josh Duggar as far from being a toxic public figure as possible.