These Photos of a Dying Dog's Last Trip Across America Will Warm Your Heart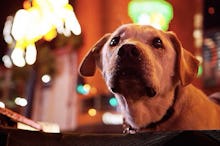 Thomas Neil Rodriguez may be the best dog owner ever.
When vets told him his elderly Poh, a pitbull-lab mix he adopted in 1999, was dying, the New York-born Rodriguez and his fiancée decided to take the mutt on an epic cross-country tour. Over seven weeks in late winter and early spring, the trio hit Las Vegas, the CNN Center in Atlanta, the Washington monument and the Hollywood Walk of Fame. 
"I wasn't sure if Poh was going to make it," Rodriguez told Mic. "The first goal was to get to the Pacific ocean."
Rodriguez documented his travels with Poh in a comprehensive Instagram account, which received an outpouring of support from pet owners moved by his devotion. The photos speak for themselves.
When it was all said and done, Rodriguez told Mic, he and Poh had driven 12,000 miles and hit at least 35 cities. 
Poh did indeed make it to the Pacific, where Rodriguez was on hand to record his old friend's tentative foray into the ocean. 
"After he was in the water he was running back to the car," said Rodriguez. "His energy during the trip just got better and better."
While veterinarians had initially given Poh potentially just days to live, Rodriguez told Mic the trip seemed to reinvigorate the dog and extend his life beyond anything they imagined. In fact, to help Poh's spirits, Rodriguez looked for ways to keep the vacation going after returning to New York. "It was almost like a human," he said, noting Poh's initial depression at coming home. "I had to sort of continue the adventure."
To do that, Rodriguez does his best to keep Poh's days full of urban exploration in and around the city with trips already logged to Coney Island, the Brooklyn Bridge and the Jersey Shore.
"He still has a lot of spirit it in him," Rodriguez told Mic. "He's not ready to give up."