These Models Had the Best Response to the Man Who Sold Their Instagram Photos for $90,000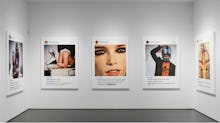 If someone takes something you put on social media and either sells or steals it, chances are there's little you can do about it. Unless, of course, you can beat them at their own game.
Reappropriation artist Richard Prince made headlines this week for selling giant prints of other people's Instagram photos for $90,000 a pop. Six of the images Prince used were Instagram posts by Suicide Girls, a community of pinup models, photographers and fans of women-produced, sex-positive online erotica whose images are reserved for paying members.
So Suicide Girls responded in the best way possible: They decided to resell the images Prince snagged for much cheaper — as in 0.001% of the price. Suicide Girls founder Missy Suicide posted links on her blog yesterday where you can buy Prince's art for $90 a pop. Why? "I'm just bummed that his art is out of reach for people like me and the people portrayed in the art he is selling," she wrote.
The prints sold by Suicide Girls are the same as Prince's, down to the size and material, except for one slight difference: Each one has an extra Instagram comment by @suicidegirls that reads: "true art."
The printing site Eyes on Walls is printing each piece at cost for Suicide Girls, and all profits from the sales are going to the Electronic Frontier Foundation, an activist group that serves as a sort of ACLU for the Internet, "defending civil liberties in the digital world."
Suicide Girls is used to this. "It's like I said on my blog: If I had a nickel for every person who stole from us, I would have enough to spend $90,000 on art," Missy Suicide told Mic.
The Suicide Girls community, which has always been about alternative style and imagery, has been around since 2001, long before body positivity was a significant mainstream conversation. Since then, it's had to contend with people trying to bite away from its business, whether it's people downloading images from behind its paywall and posting them to social media, or dozens of new competitors who have taken the signature Suicide Girls style and capitalized on it.
Suicide Girls has responded to these disruptions in the way most enduring media companies have: by building up event appearances, tours and premium-membership offerings. But as long as you're making valuable goods that people want on the Internet, people will try to either get it for free or get paid as a middleman for ripping you off.
Missy Suicide told Mic that she's not terribly upset about the Prince project. Like Doe Deere, another entrepreneur from whom Prince took images for his show, she's not planning on starting a legal battle.
"He's definitely profiting off of what we're putting out there, but he's also opening up a discussion," Missy said. "Whether it's good or meaningful, I don't know. But I'm not holding a grudge."