One 'Bachelorette' Contestant May Be Falling for Another, and ABC Is Gay-Panicking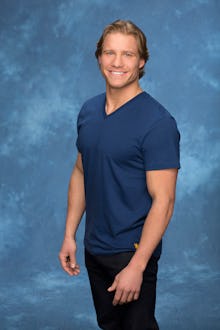 What happens when two men angling to date the same woman fall for each other instead?
On next week's episode of The Bachelorette, if you trust ABC's promo, Chicago contestant Clint has fallen in love with Denver-based competitor JJ. Putting trust in that promo is a dicey idea, though, considering they're marketing Clint as the "Brokeback Bachelor."
Yes, ABC is actually promoting this "twist" with a massive dose of gay panic. It's as gross as it sounds.
The ad casts Clint as a manipulative man who is trying to use the titular bachelorette, Kaitlyn, to stay close to JJ. He knows she's not the right girl for him, but he's lying to her about his feelings. It's a pretty disgusting characterization from ABC, particularly because there are some suspicious cuts of dialogue that sound forced together. ("We've grown very close ... in the shower," Clint says, with a very noticeable break in the middle.)
This story sounds reductive to say the least; the evil gay man manipulating a woman is a nasty trope. If it also turns out to be untrue, that will make ABC's behavior even more repellent.
This would all be a bit more palatable — although not "Brokeback Bachelor," that'd be disgusting no matter what — if the series had bothered to cast a gay bachelor or bachelorette before. The franchise is actually remarkably bad on a diversity front, with an almost entirely straight, white cast of bachelors and bachelorettes over the years. You might say the most diverse "seasons" of The Bachelor were actually just seasons of Flavor of Love over on VH1.
The diversity deficit is so grim that Jesse Tyler Ferguson and George Takei got together a couple of years ago to produce a parody video for Funny or Die called "The First Gay Bachelor." Unsurprisingly, it looked far more entertaining than the actual Bachelor franchise.
Perhaps next week's actual episode will handle the issue with more class than this promo does. But considering this is the production team that still hasn't managed to cast a black bachelor or bachelorette, much less a gay one, we're not optimistic.