Here's What Happens When Men — And Women — Get Honest About Thongs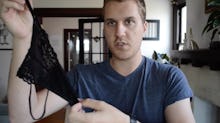 "This is like a choker necklace for your crotch."
That's how Robbie Sherrad, a YouTube comedian, describes a thong he says he found outside his home. In a video shared on Mashable, Sherrad tries his best to understand the teeny women's underwear that's more string than actual garment. 
Watching him tug and pull at the elastic bands, accompanied by a string of absurd commentary, hilariously underscores how much the practicality of thongs flies over men's heads. But it also serves as a reminder of the extremes that women's underwear can reach — and why plenty of women are ditching thongs entirely.
No wonder you can slingshot thongs.
Constricting, much?
And tellingly... 
Functionality or fantasy? The discussion of thongs usually centers around appealing to men. Reddit threads and message boards feature women asking for men's thoughts on the merits of boyshorts or lacy bikini bottoms, or men just offering up opinions on their own, happy to declare the women who wear them sexy or trashy.
This video, though, pushes the sexy point aside and focuses on how uncomfortable and illogical lingerie has gotten. Yes, there has always been a purpose behind thongs: no visible panty-lines. But the current coterie of underwear options goes beyond function — plus, there are plenty of other ways to avoid the dreaded VPLs, and thongs are just one option. 
That is, of course, only if you care about VPLs at all. 
Embracing the granny panties: According to the New York Times, thongs are no longer "cool," and hipsters are loving bottoms that, well, actually cover their bottom. The New York Times cites data from research firm NPD Group showing that sales of thongs decreased 7% over the last year, while sales of fuller styles — briefs, boy shorts and high-waist briefs — have grown by 17%.
The shift away from thongs makes sense; as Cosmpolitan reported, thongs became popular around the time as tight workout clothes in the 1980s, then peaked in the low-rise jean era of the late 1990s and 2000s. Today's era of boyfriend jeans and maxi skirts makes thongs less necessary.
But it's not just necessity; it's a shift in viewpoint. More women-led companies have sprung up that lend a feminist perspective to underwear. "Most women just want something basic for every day that will make them look and feel good," Greer Simpkins, who started her own lingerie line, told the New York Times.
Because what men think is, for many women, besides the point. It's not about eschewing thongs altogether or not wanting to feel sexy, women told the Times; it's a matter of having more choices. Thong or no thong, that's something all women can get behind.