This Stunning Retro Video Game Could Break the Kickstarter Record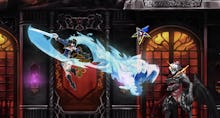 Kickstarter began as a way for independent artists to realize their dreams. Now it's the new territory for the birth of a blockbuster.
In only two and half weeks, a video game called Bloodstained: Ritual of the Night has raised almost $3 million on Kickstarter. It's an action-adventure game much like the classic Castlevania series — in fact, Bloodstained is the brainchild of Koji Igarashi, the producer of Castlevania and godfather to the genre itself.
At the rate of pledges so far, the game is expected to pass $5 million in funding by the time the campaign is up, pushing it past the Kickstarter campaign for the most-funded video game of all time: Torment: Tides of Numenera, which raised about $4 million.
Check out the pitch video, in which Igarashi roams through an ancient castle, drinks wine and casually tortures a man while talking about special game features.
Killer incentives: The key to a successful Kickstarter campaign, besides a great pitch, is offering the people who back you some rewards for their support. So far, Bloodstained has 35,000 backers who have pledged an average of $80 each — largely because the campaign rewards are so robust. (According to Wired, the $80 average pledge is "significantly higher than every other Kickstarter in its range.")
The project's creators offer everything from special messages in the credits to turning your pet into an in-game enemy. But most of those direct rewards are par for the course for a campaign of this size. What really sets their campaign apart is that they've invented a new style of backer reward virtually unseen in similar blockbuster Kickstarter campaigns: backer "achievements." 
Essentially, they've gamified the backing process.
By participating in little collective achievements — posting 25 Instagram photos with stained glass and a special hashtag, cosplaying as game characters, subscribing to the game's YouTube channel — the backer community can unlock special in-game rewards once the project is complete. 
It's no accident the campaign is so beautiful: The team is collaborating with professional designers and merchandise companies to build its backer base. 
But even if high-value visuals and great rewards are fundamental to the success of a Kickstarter campaign, the blowout production value has other independent developers shaking their heads.
"Bloodstained" has gamified the backing process.
Indie, or not indie? The $500,000 the project aimed to raise on Kickstarter is supposed to fund the production of the game, but Bloodstained will actually be receiving more from unknown investors.
A more realistic estimate for what the game will cost to make is over $5 million, the kind of money a gaming legend like Igarashi could raise on his own. The campaign is much more valuable to the Bloodstained team for its ability to build a pre-sale audience and develop a loyal fanbase. 
But truly independent developers are complaining that that when major institutions claim you can make a blockbuster on the meager $500,000 Igarashi is asking for, it creates an unfairly low expectation for how much indie games cost to make. It becomes harder for independent developers to ask for similar amounts. In an op-ed for Polygon called "'Big Indie' Kickstarters Are Killing Actual Indies," Katie Chironis, who launched her own Kickstarter campaign for a game called Elsinore, wrote:
"Transparency is critical. If consumers don't know how much things actually cost, projects that haven't raised nearly enough will continue to be funded wildly right and left and, inevitably, will have to scramble for extra funding from commercial sources — the exact problem Kickstarter was intended to solve in the first place."
Hopefully, campaigns like Bloodstained won't ruin Kickstarter for the true independent developers before they walk away with millions of dollars.
h/t Wired