Intense Video Shows the Exact Moment Massive Floods Swept Into a Texas Home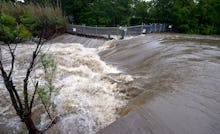 Over the weekend, America watched as floods ripped through Texas and Oklahoma leading to at least 35 deaths. Now, new video has emerged showing the terrifying moment the Blanco River overflowed its banks, crashing into a nearby Wimberley, Texas, home.
The house is a vacation home for the Perez family. In the video, family member Sarah Perez can be heard screaming "oh no" from the second floor. The footage was uploaded to YouTube Tuesday, where it quickly garnered more than 275,000 views.
In Hays County, near Austin, 350 to 400 homes were completely destroyed by the raging floodwaters, while more than 1,000 others suffered damage. On Thursday, rescue teams in the area continued to search for the missing.
"We're very vulnerable right now," Hays County Commissioner Will Conley told CNN. "If we were to receive a small amount of rain, we could be right back into an emergency situation."  
The frightening video adds to a growing body of footage documenting one of the worst natural disasters in the region's history.