'San Andreas' Proves Why The Rock Is the Biggest Action Star of 2015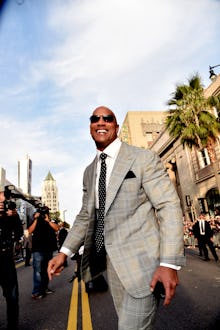 Whether the last movie star was George Clooney, Tom Cruise or someone else, the consensus is clear: There aren't many anymore. Unlike the years when a star name could guarantee a movie high box office numbers, audiences are far more attracted to franchise properties and big-name directors now. Put it this way: Most are going to see Avengers: Age of Ultron, not Robert Downey Jr.
That's what makes Dwayne Johnson such an anomaly. The man best known as "The Rock" went from football to wrestling to the big screen and, in the process, carved himself a niche that would soon make him irresistible. His sensitive-but-strong hero image is helping to make his 2015 an incredible year — first with Furious 7 and now with this weekend's new release San Andreas.
Johnson isn't just well-liked: He's a phenomenon. He has almost 50 million fans on Facebook. That may not be a Vin Diesel number (he's at 92 million), but it blows other male stars like John Legend (7 million) out of the water. He knows how to use social media to his advantage, with huge presences on Twitter and Instagram as well. He's a larger-than-life character, but his social presence keeps him close to fans.
Of course, all the social support wouldn't mean a thing if his fans didn't show up for his movies. Yet show up they do, to the tune of almost $2 billion in grosses throughout his film career — a career that didn't really ignite until 2007 with The Game Plan. That family-friendly movie sold him as the goofy giant with a heart, while later films like the Fast and Furious franchise gave him his action bonafides.
So far, the latter movies are still far and away his biggest hits, and he hasn't opened a movie on his own in some time. San Andreas could be that hit, though the box office estimates for the disaster flick are a bit lower than what he'd need to be a sensation. That could, to be frank, be more about the kind of movie than its star. The last pure disaster movie to perform well at the box office was 2009's 2012. This weekend will be a test not only for Johnson, but for the genre.
Even if the movie performs quietly, Johnson's in no danger. He has a new series coming to HBO in June. Called Ballers, the show follows a retired football star (Johnson) learning to live life off the field as a manager for other players. It's set in Miami and has the fun, breezy look you'd expect; think Burn Notice with a higher budget and even more gratuitous attractive women. Johnson's a producer on the project as well as the star, so it's a double win if it becomes a hit.
Additionally, he has quite a few films in the pipeline, including the newest Fast and Furious installment and 2019's Shazam live-action adaptation. Until those come out, however, Johnson will keep busy building his brand and becoming more and more beloved. His star will continue to grow. 
The sky's the limit for The Rock.