This Stunning Ad Reveals What It Really Means to Survive Breast Cancer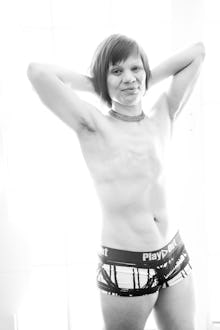 Emily Jensen started an online community called FlatTopper Pride after she survived breast cancer by undergoing a bilateral mastectomy. 
FlatTopper, according to its website, is "where gender presentation and cancer intersect in a meaningful, productive and supportive space." Through the strength of community, members are given a platform, which is especially important for those who feel voiceless after "the journey of oncological treatment." This mission clearly resonated with Play Out, a genderless underwear company. In a recent campaign, Play Out featured women who have undergone double mastectomies without breast reconstruction as models, including Jensen, who is a friend of Play Out owner Abby Sugar, Mashable reports.
"We want to share their photographs, stories and experiences with you in the hopes that other breast cancer patients, especially in the LGBTQ community, will find role models, support and inspiration," Play Out states on its website. "Let's start a dialog around gender presentation and expectations, breast cancer and being queer."
This campaign is hardly the first photograph-based effort to raise awareness about the post-mastectomy experience. Individuals who have posted images of post-mastectomy scars have battled various social media companies for their right to do so: Facebook has a history of removing these images, and Instagram only recently clarified that photos featuring post-mastectomy scarring are allowed on their platform.
Celebrities have also opened up a dialogue about mastectomies. Most notably, Angelina Jolie sparked a conversation when she wrote about her choice to undergo the procedure in a 2013 New York Times op-ed. 
"Cancer is still a word that strikes fear into people's hearts, producing a deep sense of powerlessness," she wrote, adding, "I wanted to write this to tell other women that the decision to have a mastectomy was not easy. But it is one I am very happy that I made."
This ad campaign is a valuable contribution to a growing movement to break down the stigma that surrounds breast cancer and to raise awareness about what it's really like to undergo a mastectomy — and it's one that furthermore brings gender and sexuality into the conversation in a much-needed way.
h/t Mashable