Google Just Ripped the Gold Teeth Out of the Rotting Corpse of Google Plus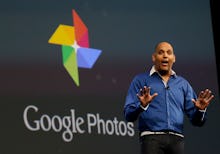 Google Plus, Google's social network, is dying. Virtually no one is using it. So like an enterprising grave robber, Google has taken the golden dentures out of Google Plus' mouth and buried the body.
On Thursday at Google I/O 2015, a yearly event where Google announces its next big moves in new software and mobile technologies, the company rolled out a slew of new product announcements: improvements to its wearable tech software, its own version of Apple Pay (called Android Pay, of course) and a new version of its cardboard virtual reality headset.
But there was one stark omission from the proceedings:
Instead, Google pulled a very different maneuver: It pulled out the photo-sharing and editing functions from Google Plus and turned them into a single app, called Google Photos — leaving Google Plus an obscure, mostly forgotten feature with a vague and uncertain purpose.
Google Plus' photo features have long been a hidden gem buried beneath a pile of social-networking coal. The new app will be, according to Google's pitch, a one-stop hub for taking, storing, sharing and editing your photos:
If you want to give Google Photos a whirl, it will be available later today across Android, iOS and the Web. With this launch, we've made a lot of progress towards eliminating many of the frustrations involved in storing, editing and sharing your memories.
Many people don't remember, but when Google Plus debuted, Google executives called it a bet-the-farm project, a claim Google does not often make. It's long been rumored that Google was going to pull out the remaining worthwhile features of Google Plus into a new, fully worthwhile product. But if there's anything we know from the way Google Glass faded quietly into the night, it's that Google would much rather put something on the back burner indefinitely rather than admit failure. To this day, the company insists that Google Glass isn't dead — even if everyone still talks about it as if it is.