Here's the Real Reason Why So Many Republicans Are Running for President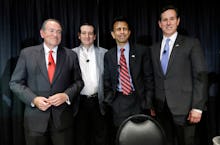 On Thursday, former New York Gov. George Pataki declared himself a candidate for the Republican presidential nomination. Less than 24 hours earlier, former Sen. Rick Santorum (Pa.) did the same. Their entries bring the total number of confirmed mainstream GOP candidates to eight, with another seven and Donald Trump still waiting to officially declare.
The field is so densely packed that Fox News and CNN have already said the party's first two debates, beginning on Aug. 6 in Cleveland, will feature only the 10 highest-polling candidates. Going by the most recent surveys, that would mean former Hewlett-Packard CEO Carly Fiorina — the only woman in the field — and Ohio Gov. John Kasich would be shut out of the conversation.
So what is it about this 2016 race that is so appealing to Republicans? 
The absence of an overwhelming favorite definitely makes the prospect of a run more appetizing. The latest round of polling from Quinnipiac University yielded a five-way tie among declared and potential candidates. The reality, though, is less exciting. There are, at the very most, five candidates with at least a puncher's chance of winning the nomination. After former Florida Gov. Jeb Bush, Sen. Marco Rubio (Fla.), Wisconsin Gov. Scott Walker, and Sens. Rand Paul (Ky.) and Ted Cruz (Texas), the rest are either unknown, unproven or utterly uninspiring to voters outside their very narrowly defined constituencies.
And yet, they run. They run because there is no other platform so big and broad — and lucrative. Call them the "brand candidates" of 2016, for whom the campaign trail is an audition room not for the presidency, but a place in the gilded world of corporate speaking engagements, book deals and TV shows — where they go to get rich after a failed run for the White House.
The election-industrial complex: Former Arkansas Gov. Mike Huckabee is the reigning king of the brand candidacy. When Huckabee made his first run for president in 2008, he had "assets valued at less than $700,000," according to a New York Times report from May 2007, with his salary as governor topping out at $74,000 a year. Huckabee would go on to win the Iowa caucuses in 2008.
Eight years later, Huckabee's net worth has skyrocketed. Though he has been careful to keep the actual figures under wraps — much of his initial appeal to the GOP rank-and-file was rooted to his modest beginnings — Huckabee's time in the spotlight earned him the gig at Fox News, where he had been collecting a reported salary of $500,000 before canceling his show in January to launch his current bid. The beach house he now owns with his wife is valued at nearly $3 million.
How did Huckabee manage it? Simple, really. He thumps his Bible with style. He smiles a lot, plays bass guitar and jokes often about his unruly waistline. Another victory in Iowa, in 2016, will likely mean a better contract from Fox News and heftier advance on his next book, the follow-up to the recently released God, Guns, Grits, and Gravy.
Like Huckabee, Rick Santorum also has Iowa to thank for reviving his political career. Santorum served two terms in the House of Representatives before being elected twice to the Senate in 1994 and 2000. He lost his seat in 2006. By the time Santorum left Capitol Hill, his rabid anti-gay rhetoric had moved him firmly outside the GOP's mainstream. For a time, he was better known for the neologism bearing his name than anything else.
But by 2012, he was back in the game, running against Mitt Romney and former House Speaker Newt Gingrich for the right to the Republican presidential nomination. Santorum won the Iowa caucus by a slim margin, then rode support from a friendly billionaire's super PAC to victories in 11 states before Romney finally clinched the nomination. 
Beaten but hardly defeated, Santorum quickly cashed in. On June 7, 2012, a little less than two months after conceding the race, BuzzFeed reported that Santorum had signed on with the Harry Walker Agency and would begin soliciting between "$40,000 and $50,000" per speech — a hefty bump from the $6,000 he commanded for a 2010 address to the Messianic Jewish Alliance of America.
Next up: For the more serious contenders, the brand candidates pose a unique challenge. Take Bobby Jindal — the Louisiana governor, long thought a conservative cypher, has been working overtime to repackage himself as a foreign policy expert. So when Rand Paul suggested in an interview on Wednesday that the Islamic State had been inadvertently strengthened by haphazard U.S. arms giveaways, Jindal pounced.
"This is a perfect example of why Senator Paul is unsuited to be Commander-in-Chief," Jindal said in an official statement released later Thursday.
A few hours on, MSNBC was rehashing the criticism in a story headlined, "Bobby Jindal slams Rand Paul over ISIS comments, kicking off 2016 showdown." Of course, there is no "showdown" between Jindal and Paul. The latter has a modest opportunity to win the nomination; Jindal has no hope. But for one day, they shared the spotlight and the Louisiana governor's brand, which has taken a beating of late as his state's economy falls into disrepair, earned a potentially lucrative boost.
With Santorum and Huckabee already in the race, Jindal likely to formally join soon, and one-note characters like war-happy Sen. Lindsey Graham (S.C.) on the horizon, the 2016 GOP campaign promises to be among the more entertaining of our lifetime. Whatever that means for the part, it is undeniably good news for the candidates' pocket books.