These Seniors Skipped Their Class Trip to Give Their Principal a Life-Saving Gift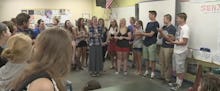 There wasn't a lot students at Profile Junior-Senior High School in Bethlehem, New Hampshire, could do when their principal, Courtney Vashaw, was diagnosed with a rare and aggressive form of cancer. But when an opportunity emerged to pitch in, the school's graduating class rose to the occasion.
Instead of taking a four-day "senior trip" to New York's Rydin' Hi Ranch, the class decided to donate the costs of the trip to go towards Vashaw's medical care. In all, it totaled nearly $8,000. 
"It is very hard for me to accept help, and I have no idea what to say to you," an emotional Vashaw told a group of students, local ABC station WMUR9 reported. Vashaw, a self-described naturally private person, only told students about her condition after she knew she would have to miss several days of school. 
"Every one of us has a connection with her, and she has given so much to us that we just wanted to give back," Christopher Sirois, the senior class president, told WMUR9.
The selflessness of the Profile Junior-Senior High School students is a powerful reminder of how important educators are in the lives of young people. Study after study after study has shown that good teachers carry an outsize importance on the lives of students. 
Unfortunately, this is a fact not always reflected by their station in American society. While U.S. teachers come out reasonably well on the international pay scale, they often face lower expectations from others and abuse from politicians. "Those who can do; those who can't teach" is a saying as old as it is pernicious. 
As a result, stories about giving back to educators are far less common than stories like this:
In South Korea, teachers are called "nation-builders." The description is an accurate reflection of what they contribute to society. Vashaw and the teachers at Profile Junior-Senior High School are nation-builders, and the rest of us cannot do enough for them.