This American City Has the Greatest Hip-Hop Scene You've Never Heard Of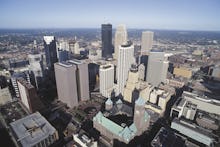 In the heart of the American Midwest, two cities that straddle the Mississippi host one of the most impressive hip-hop scenes in the country: Minneapolis and St. Paul, Minnesota, regionally known as the Twin Cities. Their tradition is long and storied, going back nearly as far as the New York hip-hop scene, where the genre was born. Through experimentation and tenacity, Twin Cities hip-hop has earned a formidable reputation, but it's one that's still unfamiliar to much of the country
Yet for those in the know, its reputation is growing. The Twin Cities have, according to Complex, "become something of a destination for those drawn to hip-hop with a political or classical bent." Pitchfork raves, "Scratch the surface and you'll find the Cities are roiling with talent and inspired gas-face-inducing new directions." 
Beneath that surface is a fascinating history and promising future, built on the shared experience of living in the Midwest.
Two years after Sugarhill Gang's "Rapper's Delight" debuted on the national scene in 1979, a Brooklyn native who went by DJ Travitron moved to the Twin Cities. He remembers that the Minneapolis hip-hop scene was way behind New York, and no one knew what scratching was yet. "I'd been DJing since high school," Travitron told City Pages, "and when I started throwing little parties up here, people actually thought I was damaging the record."
He threw massive parties that attracted hundreds of kids, and eventually his were the only ones worth going to. "Travitron was the godfather," Twin Cities native DJ Disco T told City Pages. "If you had a party on the night Travitron had a party, then your party wasn't getting packed." At that point in Minneapolis, hip-hop still wasn't getting radio play, but before long word of the new scene spread thanks to Travitron's parties, as well as breakdancing and graffiti artists getting national attention.
By the early '90s, the scene that Travitron had begun was spawning a hip-hop collective called Headshots. It was like Wu-Tang Clan in that it was made up of everyone from DJs and b-boys to entrepreneurs and producers. Some of the artists in the group were Twin Cities hip-hop heavyweights like Eyedea, Slug, Ant, Siddiq and I Self Divine. They were frustrated with studios, and started their own out of necessity — "that's how [Twin Cities hip-hop label] Rhymesayers basically started," Ant told City Pages, "was Siddiq saying, 'Fuck everybody, we're just going to do everything on our own.'"
Rhymesayers would become the foundation of the scene. It was founded in 1995, and their second release was in '97 with Atmosphere's Overcast!. Atmosphere are perhaps the Twin Cities' most famous hip-hop group to date, made up of MCs Spawn and Slug and producer Ant. The Rhymesayers label opened the door for other Twin Cities rappers like Brother Ali (an incredibly talented, legally blind Muslim albino), as well as the Doomtree collective, which features artists like Dessa, P.O.S. and Paper Tiger.
Those artists set the tone for several decades of artistic innovation in the genre. Since then, the Twin Cities have cemented their place as one of the leading underground and political hip-hop scenes. In November, Pitchfork wrote, "the Minneapolis-St. Paul rap scene has become one of the weirdest, most experimental in the country." Up-and-coming rappers like Muja Messiah, Astronautalis and thestand4rd collective are making names for themselves around the city and gaining national attention.
But the scene is still intensely and proudly local. That's thanks in large part to a hugely supportive musical community, including Minnesota Public Radio — that's right, there's more than Garrison Keillor on MPR — that hosts an FM station called the Current, which has local hip-hop on regular rotation. And Fifth Element, a record store and impromptu event space, has become a Twin Cities legend that helps the burgeoning scene host big acts as well as local up-and-comers. Fifth Element also happens to house the current offices of Rhymesayers.
"This place has kind of been a secret garden for art for a long time," Atmosphere frontman Slug told Noisey recently. "This is a place that is known for having people who are little too artsy for their own good. And rap is just another branch of that tree of Minneapolis art. Seeing rap born from here make its way to the world, obviously that's a great thing that makes me proud of my city." 
Also instrumental in boosting the scene is the Twin Cities' annual hip-hop festival, Soundset. It attracts big names like Snoop Dogg and Nas, but up until 2015, Atmosphere always headlined. This year's Soundset, which took place on May 24, hosted big names like Yelawolf, Big Sean and Vic Mensa, and Atmosphere gave up the headlining slot to J. Cole. It was like a passing of the torch — one sign among many that this scene's credibility is only growing.