These Teens Reveal What It's Like to Have Access to Free Contraception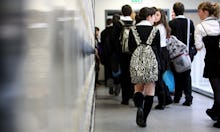 The most effective form of birth control for teens is one we rarely talk about. In April, the Center for Disease Control and Prevention said intrauterine devices and implants, known as long-acting reversible contraceptives, are most effective at preventing pregnancy for teen girls — and yet only 7% of teens use these methods. But one Seattle high school is doing it's part to change that, one free IUD at a time. 
Seattle's public health department made IUDs and implants free to students in 2010 after nearly two decades of providing access to birth control to students, according to the Grist. Since these devices were made available to students, 500 of them were implanted in six schools across Seattle.
Not only has this program benefitted young women by giving them access to a safe, long-lasting form of birth control, but it has also started an important dialogue among students.
"The birth control culture, for lack of a better term, and the conversations have just changed so much," Katie Acker, a health educator in the Chief Sealth International High School clinic, told Grist. "Conversations are just happening so openly and so excitedly. There's so much pride around, 'I've got this method, I've got this method.' It's not a hush-hush thing anymore ... So many students will come in and say, 'Oh, my friend got the IUD, can I make an appointment?'"
Three students confirmed Acker's observation, telling Grist the program has made sex and sexuality easier to talk about, enabling teens to make an empowered health decision that they likely wouldn't have advocated for otherwise.
Erica: "I think it's easier to talk about sex. And also talking to other people or making other people feel comfortable that they're getting birth control, or that they're having sex."
Karen: "I don't think I really would have necessarily thought about it, until I'd come here and hear people talking about it. It probably wouldn't even have crossed my mind that that was an option."
Rose: "I'm really independent, so I don't really talk to my parents about any of it. So if I would've had to talk to my parents about the whole birth control thing, I probably wouldn't [have it]."
Their reasons for getting the devices, ranged from practical to reflective of the disturbing concerns countless teen girls still face. 
Karen: "You don't have to worry about it, and I easily forget a lot of things. So I was like, rather just get one and leave it in."
Her observation is backed by fact: IUDs are the longest-lasting form of birth control and highly effective — less than 1 out of every 100 women using an IUD gets pregnant every year — according to Planned Parenthood.
But practicality wasn't the only thing on these teens' minds.
Erica: "I have a sleeping disorder, so, just in case I fell asleep somewhere and I was taken advantage of, I would have birth control." 
Erica's fear is unfortunately grounded in reality, considering as many as 1 in 5 female high school students reports being physically and/or sexually abused by a dating partner and 16- to 19-year-olds were 3.5 times more likely than the general population to be victims of attempted or completed rape or sexual assault, according to the U.S. Department of Justice.
Ultimately, though, accessibility has led to honesty, resulting in empowering knowledge and self-advocacy for these teens.
Karen: "Now that I [have birth control], now that I've been told about all the different options, I feel like I have a little more knowledge about it. So now if someone were to talk to me, I'd be a lot more comfortable because I do know about it, I have information about it." 
h/t Grist