A$AP Rocky's Inexcusable Rant About Rita Ora Is Misogyny at Its Worst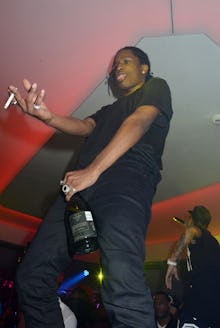 When A$AP Rocky released his sophomore album, At.Long.Last.A$AP, on Tuesday, it didn't take long before people sounded off on the track, "Better Things." He raps, "I swear that bitch Rita Ora got a big mouth / Next time I see her might curse the bitch out / Kicked the bitch out once cause she bitched out / Spit my kids out, jizzed up all in her mouth and made the bitch bounce."
That's not even the worst part of A$AP's gross misogyny. The rapper visited Annie Mac's BBC Radio 1 show  Wednesday and was asked to elaborate (aka: given the opportunity to apologize) about the lyric. His reply was as bad as you might expect: "I'm just saying that when I was in a relationship and I did things with her that I wasn't supposed to do, she had a big mouth."
The irony of sexually shaming a woman by name on his album for having a "big mouth" is apparently lost on A$AP. His actions are totally inexcusable.
Unfortunately, rappers attacking women is nothing new. In a 2014 freestyle, Eminem rapped, "But I may fight for gay rights, especially if they dyke is more of a knockout than Janay Rice / Play nice? Bitch I'll punch Lana Del Rey right in the face twice / Like Ray Rice in broad daylight in the plain sight of the elevator surveillance / 'Til her head is banging on the railing, then celebrate with the Ravens." Eminem does this sort of thing all too regularly, but it's rarely been as personal and invasive as A$AP's incident.
A$AP shows no remorse. He also went on Sirius XM, where he was again asked to elaborate on the lyrics. He told VJ Sway Calloway, "First off, this song, it's old. It's an old song. It's one of the older songs on the album. But what I will say is, I got into a lot of trouble over her at times when I didn't need to. She caused a lot of grief. So at that time, for me, it was just like... You know, for me, I said what I said."
This is slut-shaming 101, and the evidence is right there in the lyric: While A$AP shames Ora, he simultaneously empowers himself. And the consequences of sexually shaming someone go beyond surface insults.
"Slut-shaming is far more harmful than simple name-calling," Leora Tanenbaum, author of I Am Not a Slut: Slut-Shaming in the Age of the Internet, wrote for the Huffington Post in April. "Being denigrated publicly in itself can be traumatic, as the suicides of a number of slut-shamed girls attests. 
"Once a girl or woman is regarded as a 'slut' or 'ho,' she becomes a target for sexual assault. And if she is sexually assaulted, she may be assigned the 'slut' or 'ho' identity ex post facto to rationalize the crime and to protect the assaulter."
A$AP Rocky's actions have gone past slut-shaming to promoting the culture of it. He's setting a dangerous precedent, and his actions shouldn't go unnoticed. Shame on him.