Chance the Rapper Just Released the Album We've All Been Waiting For — And It's Amazing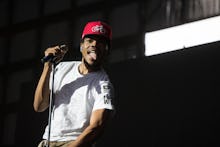 Surf is finally here.
After a long wait of over two years, Chance the Rapper, Chicago's quirkiest and most exciting MC, released his highly anticipated new project by surprise early on Friday morning. Though Surf is not even technically a Chance album — it's led by Donnie Trumpet, the trumpeter in the Social Experiment and relies on an array of high profile guests — it is the perfect distillation of Chance's feel. It's bright, summery and free to download from iTunes right now. Your weekend just got the perfect soundtrack.
For a free album, Surf has incredibly high production values. Chance doesn't appear on all the tracks, and when he does his voice feels more like a treat than the main course. He's more like the master of ceremonies, but it's a job he does well. All the tracks have an incredibly organic and spontaneous energy to them; every cut sounds like it was a joy to record. 
Hip-hop and R&B's greats come out in force to show support for the Chance camp. On the second track alone, B.o.B., BJ the Chicago Kid, Busta Rhymes and Janelle Monaé all make an appearance, according to Spin. Big Sean appears up on "Wanna Be Cool," J. Cole spits on "Warm Enough" and Migos' Quavo flexes on "Familiar." Erykah Badu lends her rare and sultry vocals to "Rememory," and Francis Starlite of Francis and the Lights, Jamila Woods, Noname Gypsy and Raury also all make appearances. None of these names are credited on the iTunes tracklisting. It's all just Chance's magical social experiment.
"Every record has like 50 people on it," Chance explained to Fader in January. "The idea is to make a singular, four-minute-and-30-second song that feels like a year's worth of music." Surf's tracks absolutely do.
Sharing the limelight. It's a minor revolution that an artist with as much clout as Chance the Rapper would cede his moment in the spotlight — earned in large part with the stellar mixtape Acid Rap — to cut a record as a supporting member of Donnie Trumpet and the Social Experiment. But defying the norm is part of Chance's mission.
"I can do whatever I want," Chance told Billboard last October, detailing his insistence on remaining independent. "And I've got to really flex that unlimited capability of an independent artist. I can do whatever videos I want, I can play whatever shows I want, I can release when I want, talk how I want, freely about any subject. I have a certain responsibility and I feel like conforming to the mixtape to mixtape to album rule would just defeat the whole purpose of not signing [with a major label]."
The Social Experiment's Surf feels like a true artistic statement of freedom. It's free musically, relying on live instrumentation and spontaneity more than programmed beats and rhymes; free conceptually, from expectations about what a breakout hip-hop star should do with their buzz; and free literally on iTunes. It points to some exciting new horizons for independent artists, exemplifying the fresh work they can create with their freedom. Happy summer, and happy surfing.
h/t Pitchfork