Congratulations, You Can Actually, Really, Seriously Embed GIFs on Facebook Now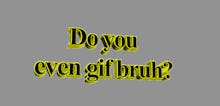 Facebook has finally begun to roll out support for the Internet's favorite mood ring: GIFs. Welcome to 1987, Facebook!
Mark Zuckerberg's brainchild appears to be allowing GIFs hyperlinked from outside websites to play on your News Feed, which means that spamming your friends with your favorite cat animations is now only a few clicks away. 
In 2013, GIF-hosting site Giphy introduced a workaround that allowed its GIFs to function as short videos and play unimpeded on Facebook. Other websites, unfortunately, were out of luck. But now, Facebook is allowing GIFs from pretty much any website, including Tumblr, Imgur and Google Images. 
Inserting one is easy: Simply paste the link to the GIF into your status bar, and voilà — there it is. It also works when you post things to Facebook groups, as the already popular "Animated GIFs" page shows.
Wired notes that the feature is still being rolled out, and while most individual Facebook users can access it, pages for companies and publishers can't quite yet. (Sorry, BuzzFeed.)
Given that more or less every other social platform supports the use of GIFs, Facebook was a few years behind with this update. Luckily for all of us who prefer pithy little animations over actual words: Our favorite social media is now a lot more GIF-friendly.