One Hashtag Reveals Just How Beautiful All Trans Lives Really Are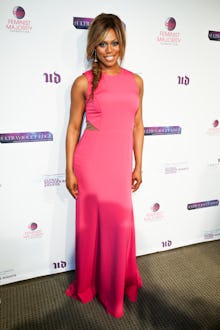 Birthday girl Laverne Cox is showing that the transgender movement has life beyond the "transgender tipping point" — the moment Time magazine described in 2014 as the rise of trans visibility — in American culture with the hashtag, #TransIsBeautiful.
The Emmy-nominated Orange Is the New Black star, who recently graced the covers of both Variety and Bust, ignited the #TransIsBeautiful campaign to combat transphobia while also elevating trans identity as beautiful. Emerging from Janet Mock's #GirlsLikeUs campaign, this celebration is also a creative endeavor to stem the psychological effects of transphobia in American culture. It's sorely needed: A 2011 report from the National Center for Transgender Equality and the National Gay and Lesbian Task Force states that 41% of trans respondents attempted suicide, compared to only 1.6% of the general population. 
Trans people and their allies are taking to Twitter, Instagram and Tumblr to show their support with the body-positive #TransIsBeautiful campaign. Indeed, it marks a "tipping" forward of the trans movement into a future built on love and affirmation.
Then, of course, there's Laverne, who earlier this week posted a makeup-free selfie not only under the auspices of #TransIsBeautiful, but under the larger umbrella of the body-positive movement for all women. With this photo, the birthday girl proves beauty comes from within, and it is born from confidence.