One Tweet Exposes the Huge Problem With the FIFA Election Everyone Needs to Know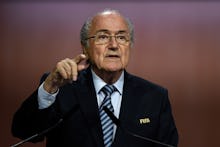 On Friday, FIFA re-elected incumbent Sepp Blatter for his fifth term as the organization's president. Unfortunately, given the recent history of professional soccer's governing body, that's a big problem. This image perfectly sums up why:
As the graphic shows, an alarming number of FIFA's top executives have been arrested, indicted or plead guilty to high-level crimes. The election comes days after seven top FIFA officials were arrested in Switzerland for 47 indictments from the U.S. regarding "racketeering, wire fraud and money laundering conspiracies, among other offenses," according to the Department of Justice. 
While this image does not represent the complete hierarchy within FIFA — only two of the seven vice presidents were among the nine FIFA officials indicted — it offers a good example of how widespread the organization's corruption is. Blatter, who has been FIFA president for 16 years, was not indicted on any charges. Given allegations of systemic corruption under his tenure, many are wondering if he could be implicated by the officials arrested and charged this week. 
Challenger Prince Ali bin al-Hussein of Jordan, one of FIFA's vice presidents, withdrew from the race after the first round of voting forced a revote. 
Corruption problems: Selecting Qatar as the 2022 World Cup host was among the alleged corruption scandals. It seemed an unlikely choice for a number of reasons, including intolerably hot weather during the summer, when the games were originally scheduled to be played. The human cost of this decision is notable, with alleged human rights abuses in Qatar of the migrant workers building the stadiums.
Amid FIFA's scandals, the 39-year-old contender gained the support of both the Union of European Football Associations and the United States. Prince Ali is the younger brother of Jordan's King Abdullah II and assumed to be the direct descendant, separated by 43 generations, of the Prophet Mohammad. 
Public officials had condemned Blatter seeking re-election, arguing FIFA cannot purge itself of corruption until the man who oversaw it all is removed. British Prime Minister David Cameron said the removal of Blatter was a must. "The sooner that happens the better," Cameron said, according to BBC.
Some opponents of Blatter argued Prince Ali was FIFA's best hope at righting its wrongs and hailed him a "reformist candidate" during the campaign. The prince is 40 years younger than Blatter and is one of the youngest of FIFA's top officials, which gave FIFA the opportunity for a much-needed fresh face. However, the prince's campaign of reform was not persuasive enough for voters to depose the reigning president.
Blatter's biggest challenge now will be to amend FIFA's image and restore faith in one of the biggest sporting organizations in the world.