This Is What Your Life Is Like When You Turn Your Apartment Into an Airbnb Haven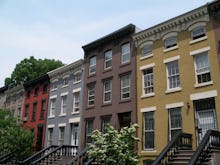 It came through the wall, loud and unmistakable: the sound of two people having sex. It was a weekday morning; I'd just sat down at the kitchen table, lukewarm cup of coffee in hand, to begin the workday.
I strained my ear. I couldn't help it. Overhearing other people have sex is unavoidable when you live with roommates. But this couple — Joseph and Ava, a photographer and an architect, both from Brazil — were strangers. They were temporary house guests, living in a small, well-lit and neatly furnished room in my apartment. My roommate and I met them through Airbnb, the Web platform for finding and booking accommodations in cities all over the world. We had been using it while we were between roommates to make up the lost rent.
After what felt like half a century, Joseph sauntered into the kitchen. "Good morning!" he said brightly. 
"Mostly nice, clean guests," I thought to myself, picturing the review I'd write for them later.
They weren't the first guests whose lives I had unintentionally found myself in the midst of. Unlike normal hotel or bed-and-breakfast guests, my Airbnb-ers live right here with me, even if just for a short while. They share my bathroom, the contents of my bookshelves, my fridge space. Each person becomes part of my New York family for a short burst of time. It allows me a window into their lives, but it also allows them a window into mine. It's a brand-new kind of armchair travel.
Oh, the people you'll meet
Most guests spend their time outside the walls of the apartment, but during certain times, usually in the mornings and late evenings, we find ourselves wandering around in tandem. We recognize bits and pieces of ourselves in each other, like little nuggets of human gold that sink to the bottom of the pan. Even strangers become intimate friends when placed in the same space.
The first German couple: They fought about the little things: who would carry which suitcase, which key opened the front door, who was to blame when they got separated coming home one night. When she was alone, Lisa confessed the worlds they came from were wildly different, and bridging the gap had been harder than either expected. The trip, cooked up as a quick fix, had made things worse.
The Swedish couple: After a few glasses of wine, they revealed the shootings that rocked their city in February happened not far from where they lived as expats in Denmark. They hoped nationalistic politics wouldn't blossom as a result, but they weren't confident. We talked about the tea party in the States and the Danish People's Party in Denmark; between the two of them, we joked, there was nowhere left to run.
The second German couple: I learned they were five weeks pregnant when David came into the kitchen and asked if we had tea for an upset stomach. Anne was having pain in her abdomen, but they didn't want to see a doctor and were terrified at the prospect of losing thousands of dollars to the American health care system. The next morning, she popped her head out from behind the bedroom door and told us it was a false alarm.
The father and son from California: Connor, who was around 4 or 5, was quiet but polite and remarkably calm for a child thrust into the clamor of the city. His father and I talked about what it was like to raise a boy; I told him about my nephew, born eight months earlier. Later, after they left, I found a pair of tiny socks shoved between the bed and the wall.
The friends from Sweden: Natasha and Isabelle were a kind of alternate-reality version of me. They took time off after graduating, choosing to travel around the States instead of getting jobs and diving into the working world. They saw me in much the same way I saw them: a version of themselves that could have become real had they made a different choice.
The proprietor
I wonder sometimes what these disparate groups of people would write about me if they chose to. Maybe they would talk about the small things, like my tendency to leave half-empty cups of tea lying around and my patchy-at-best grocery shopping habits, or the bigger things, like when I bring friends home and how often I work. 
They might mention my tendency to pick up the conversational slack when someone else falters, or my habit of using eye contact as means of connection. They could highlight the fact that I often conduct phone interviews, sans pants, from my kitchen table, or that I take 20 minutes-plus to shower each morning. 
"She's practical," they might say, after asking me the reasons I don't flee the city and move to Thailand, even though I often threaten to. "But," they might wonder, "she wonders aloud about anything and everything — maybe moving halfway across the world would satisfy her incessant need to ask questions."
Close to home
People who have never visited New York always ask how to tackle the beast in a weekend: where to go, what to see, how to drink it all in. Answering that question has forced me to become the kind of city dweller who knows things, the kind of multitalented host who can suggest museums for families and burlesque joints for couples. Non-native New Yorkers are hesitant to call ourselves New Yorkers, but guiding wet-behind-the-ears tourists makes it easy to feel, if only for a few minutes, like we deserve to.
I've become more acquainted with my neighborhood of Crown Heights, Brooklyn, in three short months — the price of a cup of coffee on every block ($1 to $3.50), the finest bodegas (three blocks south for produce and flowers, around the corner for breakfast sandwiches), the best route to Prospect Park (Eastern Parkway in the spring), where to find a cheap, decent mattress (the no-name furniture store near the subway station, not the Sleepy's next door), the closest hospital (New York Methodist Hospital) — than I did in six months of living there previously. 
I've become friendly with Daniela, who works at the coffee shop one block over, because I leave keys there in a paper bag when I can't be home to meet people. At the laundromat next to the community center, where I see the same group milling around each time I walk past, the women who wash and fold clothes have become familiar with me and my three sets of sheets, each one a different shade of yellow. 
I can explain to people that while Times Square maybe isn't the worst place in the city, life certainly doesn't revolve around it. That Fifth Avenue and the Statue of Liberty and the Empire State Building and Rockefeller Center and Madison Square Garden make for good for photo ops, but there are other, quieter spots in which to embed yourself to see the city live and breathe.
It's difficult, impossible even, to map all of New York's little pockmarks and sweet spots, but I like to think I can do it better than a guidebook.
Closing up shop
The constant moving carousel of characters has given me a collection of anecdotes to pull out on dates or in small talk. I feel, maybe too confidently, like I've traveled briefly to the countries and cities from which my guests hail. Maybe we've kept it up because we like the transiency of it, or maybe we've just been lazy. It might be both. 
In a month or so, however, the well will dry up. My roommate and I are looking to find a permanent housemate, someone who will stick around for more than a week at a time and share the burden of household chores. It might sting for a while, and my sense of myself as a New Yorker might suffer.
Really, though, I should count my blessings. Things could be worse.
Names have been changed.