Here's How Men and Women Respond Differently to Dating Profiles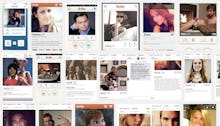 Here's how to nail the perfect online dating profile picture: a lot of concealer, a high contrast filter, a signature blow-out and the photo taken from that perfect from-above angle, right? 
Not so fast. A new study has found that, when it comes to your online dating profile, there's such a thing as "too hot to trust" — at least, for women.
Researchers from the University of Connecticut asked 305 heterosexual participants aged 17 to 36 to look at one of four different dating profiles of the same person. Some had been enhanced with lighting, makeup and hairstyling, while others were fairly normal (boring lighting, no makeup, everyday hair). They were then asked to rate each profile based on their attractiveness, trustworthiness and their ultimate desire to date them.
The results? Women thought the "enhanced" photos of men both increased their attractiveness and trustworthiness. When men looked at the enhanced photos, they rated women as more attractive, but less trustworthy. 
Putting your best selfie forward: The fact that both women and men rate enhanced photos highly isn't a shock. Online dating puts a premium on looks, meaning the pressure is high to look as good as possible.
But this isn't the first hint that an overly-glossy profile — straightened hair, loads of eyeliner, Amaro filter — might be a total turn-off for being too fake. A study from 2014 found that profiles that showcase real, imperfect people are actually the most popular, because we want to see profiles we can actually trace back to real users. (Our preference for authenticity might also be rooted in the ubiquity of catfishing and other, smaller lies littering online dating sites.)
Unfortunately, that doesn't mean we're all just looking for inner beauty. As OkCupid founder Christian Rudder and writer Jon Millward have found based on OkCupid data, being hot will always win out on dating profiles. Attractive women, by and large, receive up to four times the messages as average-looking women on online dating sites.
Even more telling? The University of Connecticut study also found that even if men do see a Photoshopped woman as less trustworthy, they'll still ask her out. "In our sample, [for men], attraction seems to be more important than trust," study author Rory McGloin said, according to EurekAlert.
So maybe all the women out there should just give up. Or, as our moms taught us, screw it and just be ourselves.
h/t Gizmodo