5 Things We Learned at the 'Gilmore Girls' Reunion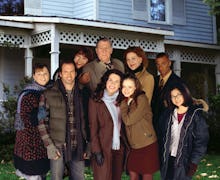 For one night in the Paramount Theater in Austin, Texas, Stars Hollow existed once again, and scores of lucky Gilmore Girls fans got to see their favorite characters together for the first time in years.
Fifteen members of the beloved dramedy's cast gathered at the ATX Television Festival for a panel discussion in honor of the show's 15th anniversary. Accompanied by creator and writer Amy Sherman-Palladino and her husband Daniel Palladino, the cast's conversation wandered for over two hours through everything from the cast's auditions to which of Rory's boyfriends stands the test of time. Here were the best bits.
1. Dean is #TeamJess, while Jess is #TeamDean. 
Perhaps the most hotly debated question related to Gilmore Girls is a simple one: Which paramour was right for Rory? The younger Gilmore had three serious boyfriends over the show's seven seasons: original recipe Dean (Jared Padalecki), spicy variant Jess (Milo Ventimiglia) and luxury brand Logan (Matt Czuchry). The former two had a particularly explosive rivalry in the series' second and third seasons.
The actors shocked everyone, then, when they declared their allegiances to each other's teams. Ventimiglia said he thought Dean was the right guy, while Padalecki threw his support behind Jess. Czuchry took a more diplomatic approach.
"I saw something Amy said recently about how the right boyfriend came along at the right time. That's kind of what I feel, between Jess and Dean and Logan. They each brought something out in Rory that she needed at that time," he said. Then, unable to resist: "But I'm also Team Jess."
So that's two votes for Jess, one for Dean, none for Logan. (As Ventimiglia put it, "Logan was a dick.") Yet it was elder Gilmore guy Luke Danes (Scott Patterson) who got in the last word.
"None of you were good enough for Rory," Patterson said.
2. Some fan-favorite Gilmore Girls characters were written specifically for their actors. 
Perhaps the most famous instance is Liza Weil's Paris. Weil originally auditioned for the role of Rory, but was brought in as a guest star in a specially written role afterward. 
Paris was meant to be a three-episode character, Weil said at the panel, but she stayed on. Similarly, Sherman-Palladino said the show had Ventimiglia under contract before Jess was even a character.
"I saw Milo do some pilot that didn't go, and I just said, 'I don't know what the character is, but I just want him before somebody else gets him,'" she said. The creators took the same approach with her next boyfriend: Logan was also written specifically for Czuchry after he auditioned for several other parts. It took a couple tries, but the Yale playboy was the right fit.
3. Lauren Graham and Alexis Bledel don't remember your favorite lines. 
While Graham said the line she hears the most is "Oy with the poodles already," she couldn't remember where it came from. "Why did I say it?" she asked Sherman-Palladino, then turning to the audience. "And why do you all like it so much?"
The quote itself comes from the season 2 finale, when a bit of wordplay at Friday night dinner with the grandparents created a strange new catchphrase. After an audience member explained the context, Graham burst out laughing. Not so much for Bledel and "copper boom," another highly spouted phrase. It comes from season 4, when Lorelai misheard Rory saying a combination of "Coppertone" and "zip-bam-boom." Rory herself has no recollection of it.
"What's 'copper boom'? I said it?" " Bledel asked. Don't blame her for not remembering: "We said so many things!"
4. The late Edward Herrmann is truly missed. 
One of the highlights of the panel was a tribute reel of some of Richard Gilmore's best moments. The actor was actually the first to say he wanted to come to the reunion, Sherman-Palladino said, before his untimely passing last New Year's Eve. There was a tremendous amount of love in the room for him.
"Fuck you for dying," Sherman-Palladino said, pain evident in her voice. She fondly recalled fawning over him in the audition, remembering his work as Franklin D. Roosevelt in three different works. "He was just a drinking, loving, knew everything in the world; he was our Mr. President."
Even before the panel, tribute was on cast members' minds. In a Friday interview with Mic, star Liz Torres (Miss Patty) lamented that he had to be absent, sharing a camaraderie with him in being of the older school on a WB show set. 
"He was from my school, 'I'm just happy to be here,'" Torres said with a laugh. "He was wonderful. I'm so sorry he's not here. Lovely man."
Keiko Agena (Lane Kim) said the same in a Saturday afternoon interview with Mic hours before the panel. "He's a wonderfully special person. He's touched a lot of people's lives," she said. "It is weird to think he's not gonna be there."
Yet in a small way, he was. In a truly classy move, one seat on the panel was left open in his memory. "For Ed," Sherman-Palladino said simply.
5. This reunion was just a one-time thing — for now. 
So no, there was no announcement of a Gilmore Girls movie or an eighth season of the show on Netflix. Rumors had been brewing for some time, hitting fever pitch late last month when Patterson told the hosts of the Gilmore Guys podcast that something was in the works.
"There are talks going on at the moment," Patterson told hosts Kevin T. Porter and Demi Adejuyigbe. "I can't really go into any detail, but there is some activity. So I'm hopeful, and you know, I'm in."
The soundbite went viral. Patterson even doubled down on his quote in an interview with Mic Saturday morning. Hinting strongly at a potential revival, he emphasized giving fans the closure he said they deserve. "They really want a reunion ... and I wanna give it to them," he said. "It's time for everybody to stop all the BS and just get down to brass tacks. We all know what the movie should be. Let's just do the damn thing and stop talking about it."
"It's time for everybody to stop all the BS and just get down to brass tacks," Scott Patterson told Mic. "We all know what the movie should be. Let's just do the damn thing and stop talking about it."
Unfortunately, the Palladinos aren't quite there yet. While other cast members seem raring to get back to Stars Hollow — Kelly Bishop (Emily Gilmore) practically whipped the panel audience into a frenzy over the idea of a revival, saying "Collectively, we're going to make this happen" — Sherman-Palladino said she has to figure out the form first.
"Here's the good thing: nobody here hates each other," the creator said. "[But] it would have to be the right everything: right format, timing, budget. It would have to be honored in a certain way."