10 Photos of the Manhattanhenge Sunset Phenomenon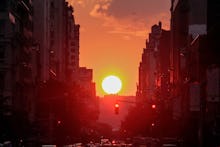 It's that time of the year again. 
No it's not your birthday or the Superbowl. May 29, 2015 marks the first of four of New York's "Manhattanhenges." The phenomena marks the modern astronomical event when the sunset is directly aligned to Manhattan island's east-west streets.
Taking a break from being over everything, New Yorkers were out in force along the best viewing spots for a shot at capturing the ultimate Tweet and Instagram. 
Unfortunately, the universe had other plans literally throwing some serious shade on the event. Nevertheless, some of the results were quite impressive.
Derived from Great Britain's slightly more famous Stonehenge, the term Manhattanhenge was popularized by astrophysicist and realness expert Neil deGrasse Tyson. Like the New Yorkers who flock to it, the event can be fickle, as it was Friday evening, with cloudy or inclement weather dashing the hearts of Instagram savants across the island. 
But fear not. Skywatcher will have another chance to capture the event on Saturday and again on July 12 and July 13. 
So good luck and Veni Vidi Instagram!