Federal Officials Say Former Speaker Dennis Hastert Was Covering Up Sex Scandal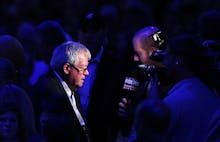 Former House Speaker Dennis Hastert (R-Ill.) was indicted Thursday in connection with illegal payments to a former student he sexually abused during his time as a teacher and wrestling coach at an Illinois high school, an anonymous federal law enforcement official told the New York Times on Friday.
Earlier in the day, the Los Angeles Times quoted an anonymous law enforcement source as saying, "It goes back a long way, back to then," referencing Hastert's 16 years as an educator in Yorkville, Illinois. "It has nothing to do with public corruption or a corruption scandal. Or to his time in office.
"It was sex."
Prosecutors are accusing Hastert, the Speaker of the House of Representatives from 1999 to 2007, of planning his bank withdrawals to hide the alleged payments from federal scrutiny, then lying to investigators about how he was using the money. The indictment says the former speaker withdrew $1.7 million of the $3.5 million he agreed to pay a person described only as "Individual A" to "compensate for and conceal his prior misconduct."
In a statement provided to the New York Times, Yorkville Community Unit School District 115 said it had "no knowledge of Mr. Hastert's alleged misconduct, nor has any individual contacted the District to report any such misconduct," but, "if requested to do so, the District plans to cooperate fully with the U.S. Attorney's investigation into this matter."  
You can read the full seven-page indictment below:
A familiar story: Hastert arrived on Capitol Hill in 1987. After Republicans lost ground in the 1998 midterm elections, then-House Speaker Newt Gingrich decided to leave Congress, effectively handing the speakership to Rep. Bob Livingston (R-La.). But Livingston would resign after getting wind that Hustler was preparing a report on a series of extramarital affairs. As the Washington Post reported at the time, Hastert "swiftly emerged as the leading contender for speaker, with the backing of virtually every outgoing and future leader."
In an Associated Press story from Dec. 18, 1998, Hastert's colleagues referenced his experience as a teacher and wrestling coach as core leadership credentials:
Like outgoing Speaker Newt Gingrich, the man likely to replace him is a former history teacher. But Illinois Rep. J. Dennis Hastert also used to be a wrestling coach, and that may be just what the reeling House Republicans need.
For the next eight years Hastert ruled the House, making him the longest-serving speaker in the history of the Republican Party.
Hastert's departure — he resigned to become a lobbyist after Republicans were routed in the 2006 midterm elections — came amid a scandal that might seem oddly familiar today. It centered on Rep. Mark Foley, a Florida Republican who was caught exchanging inappropriate texts with an underage male congressional page. Hastert was accused of turning a blind eye to the accusations, essentially ignoring his tips from subordinates for months during the summer of 2006, according a New York Times account. 
It wasn't until two days after Foley resigned on Sept. 29 that Hastert reached out to Florida Gov. Jeb Bush and Attorney General Alberto Gonzales for guidance. He later claimed he had only seen the communications on the day Foley left office, a claim refuted by, among others, current House Speaker John Boehner (R-Ohio.)
Foley was never charged in connection with his communications with the teen. Hastert, whose political career died in the wake of one scandal, is now facing up to five years in prison and a $250,000 fine for each of the two counts listed in the indictment.