The Kingpin of the Silk Road Was Just Sentenced to Life in Prison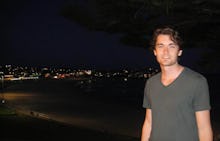 Ross Ulbricht, the first great kingpin of underground online marketplace Silk Road, was sentenced to life in prison Friday afternoon.
The 31-year-old founder and operator of the notorious Dark Web bazaar best known for facilitating hundreds of millions of dollars in illicit sales — running the gamut from hardcore narcotics to fake IDs to hitmen — stood in front of two overflowing courtrooms in downtown New York to plead that he'd become a changed man. But presiding Judge Katherine Forrest had none of it.
"[The Silk Road was] a planned, comprehensive and deliberate scheme to do that which was unlawful and posed a serious danger to our head," she said. "It was your opus."
Before prosecution and defense gave their final statements, two parents, one from Boston and the other from Perth, Australia, shakily walked the court through the lives of their children, who died as the result of taking drugs ordered on Silk Road.  
The words moved Ulbricht to tears as he gave his final statement. "I'm not the man I was when I created Silk Road," he said, wearing the prison garb from his prior 20 months locked up. "I wish I could go back. ... I've essentially ruined my life. ... I would never break the law again."
His defense didn't move the judge. "You're a criminal," Forrest said. 
Ulbricht wasn't given the 20-year mandatory minimum he requested. He was given life, and a request to forfeit more than $183 million, thanks to numerous counts: narcotics trafficking, distribution via the Internet, narcotic traffic conspiracy, committing money laundering and even soliciting multiple murders for hire against oppositions to his business.
He was a man touted on the Internet as a defender of freedom and free speech. He was reduced to a well-educated drug dealer with a dark side who stopped at nothing to build his empire. As of Friday, he'll spend the rest of his life behind bars.