Want Your Roads Fixed? Give Potholes Twitter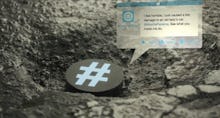 Who knew that potholes were the best Twitter trolls?
When Panamanian citizens couldn't get their government's attention for the deteriorating state of their roads, they decided to automate the complaint process.
The Tweeting Pothole was created by Telemetro Reporta, a Panamanian news show that started an entire segment around drawing attention to the condition of Panama's crumbling roads. They placed small devices in a series of potholes in Panama's busiest streets that would sense whenever someone ran over them.
Each time the potholes were hit, they sent out a message to a remote receiver that tweeted a tongue-in-cheek quip from an account called @Elhuecotwitero, or "The Tweeting Pothole," tagging the account for the Panama Department of Public Works.
Like this one: "I know, sometimes I'm a little hard on you @MOPdePanama, but don't think I have no sense of humor. People just want #DecentStreets."
Or this one, whose rough translation reads, "Hey @MOPdePanama, what's up doc?"
Yes, it's mainly a name-and-shame media stunt, but according to their campaign video, the Tweeting Pothole has actually gotten a number of potholes fixed. It's a model use for the Internet of Things — everyday objects sharing data over a network — as a tool for change. 
Latin American countries have much more access to their public officials on Twitter. In the U.S., however, you can never be sure that anyone in government is really listening.
h/t Pixable